Excellent Foundation
Marsh Supermarkets has already carved out its place in history. The first package with a UPC scanner in a grocery store was in a Marsh Supermarket in Troy, Ohio, in 1974. That store still operates, and the scanner and package are in the Smithsonian. Now the company is looking to grow both through the development of new stores and acquisitions, focused on opportunities in contiguous geographies in its current market area.
What has helped set the company apart historically is its expertise in fresh products. Marsh is known for its meat programs first and foremost, with deli, bakery and produce departments all standing out as points of differentiation. All of the company's fresh departments are focused on delivering quality and uniqueness across products, service and the overall eating experience.
"Our meat programs are anchored by black Angus beef, as one of four retailers in the U.S. with U.S.D.A. 'Certified Tender' beef," Kuncl says. "In 38 of the 72 stores, we also offer a full line of locally produced Angus beef, pork and chicken."
Additionally, the company has developed a diverse store base across its markets. Growth through acquisition has created a large variation in formats, from 12,000 to 90,000 square feet in locations ranging from downtown Indianapolis to rural Amish country in central Indiana. Marsh serves all customer and community types, succeeding by customizing each store to the community it serves.
"What is common across all locations is a focus on delivering a 'north of center' experience that is anchored by better fresh products than the competition, better service and the most convenient format," Kuncl says. "While our key competitors continue to build big stores, we really like the mid-sized conventional food store that can offer a full selection in a convenient and efficient footprint that can be shopped effectively by time-starved consumers."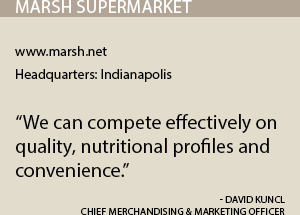 Competitive Environment
As the company considers its future, it is careful to pay close attention to industry developments in its marketplace. Firstly, its markets have about 30 percent more grocery stores per million people than the average market in the United States. New competitors continue to enter the market, and existing competitors continue to deploy significant capital into the market.
"More doors are chasing the same business," Kuncl says. "Between new capital and little market growth, we have a very competitive marketplace. Amazon also has multiple distribution centers in the Indianapolis metro region, and this is one of the areas with two-hour Prime delivery. All these things make this region a great place to buy groceries. The competition makes everyone better, and we don't see it letting up anytime soon."
Marsh plans to continue responding to this situation by competing on elements such as fresh food quality and selection, promotional pricing and events, service, e-commerce Instacart home delivery and curbside pickup, convenient locations, meal solutions, better-for-you products across the stores and by continuing to improve its everyday pricing and store environments.
"Our core competencies are fresh foods, service, promotional value, rewards programs and community involvement," Kuncl says.
Invest in Success
Not surprisingly, Marsh has been focused on key investments to support its strengths. In the digital arena, it launched a new website and digital apps and has invested in digital savings tools. These efforts include investing in Ibotta, iBeacons in all stores, inStream targeting at the point of sale and Instacart home delivery and curbside pickup.
Other technology investments are aimed at the back of house. It has invested in a new JDA store replenishment system, as well as a new enterprise data warehouse and customer data management tools, along with space planning upgrades to facilitate store-specific assortments.
Product improvement programs are focused on areas such as its certified tender beef program; local beef, chicken and pork programs; expanded cut and prepared products in produce; new chicken and salad programs in the deli; and new breads in the bakery.
"Cuisine explorers will continue to grow, and our ability to deliver international food options will grow," Kuncl says. "We must also provide convenience, as the consumer is demonstrating a willingness to pay for additional preparation versus doing it themselves."
Store improvement projects are also on the table. "We plan to have refreshed and/or remodeled 52 of the 72 stores by the end of 2016, with the remainder of the stores touched by the end of 2017," Kuncl says.
Relationships with suppliers will be important as well. "Our main selling point is that we are local," Kuncl says. "There is no other corporate approval you need when you do business with us. The decision makers are here and not in some corporate parent elsewhere. We can react quickly."
Clearly, the challenges Marsh faces include an overstored marketplace, fast-casual dining, Amazon and recruitment/retention. Trends such as format changes to traditional brick-and-mortar competition and the ongoing expansion of e-commerce, along with customers demanding better quality products and trending away from stocking the pantry in favor of smaller trips, are also complicating the market. Although these trends and challenges show no signs of dissipating, the company is confident that it will be able to compete.
"We have to be the best at what we do, and we believe there is a clear spot for our proposition in this market," Kuncl says. "We can compete effectively on quality, nutritional profiles and convenience."