The city's MB Miami Beach Suncare product line fills this need, consisting of sunscreen lotions, sprays and gels that have an international reach. Director of Communications Tonya Daniels notes that the city first discussed the program with Energizer Personal Care, but ultimately partnered with Destination Brands.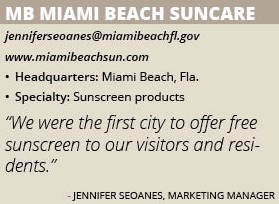 "It was an opportunity to create this brand and create our own product with a local, family owned business," she recalls, adding that the MB Suncare products were launched in 2014. Today, they are sold nationally as well as in Europe.
"When we started the program, we didn't realize how much interest we would have from the international markets," Marketing Manager Jennifer Seoanes admits. "This strong international placement early on speaks to the global awareness of the Miami Beach brand."
One of the most important aspects about the MB Suncare line, she notes, is that it is infused with natural ocean extracts, ranging from blue sea kale to seaweed. "We also manufacture in Florida and it's all hypo-allergenic," Seoanes adds.
"A portion of the proceeds go to beach cleanups and sun protection education," she continues. "[That] was important to us from the beginning."
Free Sunscreen
Beach concessions, hotel gift shops, spas, perfumeries and general stores sell MB Suncare's products. "We can also be found in the drug and grocery channel as well as the convenience channel," Seoanes says.
But Miami Beach has won acclaim with a program where it has given the sunscreen away for free. The city partnered with Destination Brands and Mount Sinai Medical Center on the program, which saw the implementation of 50 dispensers throughout Miami Beach's public beaches, pools and parks.
With a push of a lever, users can keep their skin safe with MB Suncare's SPF 30 Sea Kelp Sunscreen lotion. "It's been very successful," Seoanes says, noting that the program earned extensive media coverage. "We were the first city to offer free sunscreen to our visitors and residents."
Former U.S. Vice President Joe Biden recognized the city during his White House Cancer Moonshot Summit in Washington, D.C. The Cancer Moonshot program established an initiative to increase cancer research and make a decade's worth of advances in five years.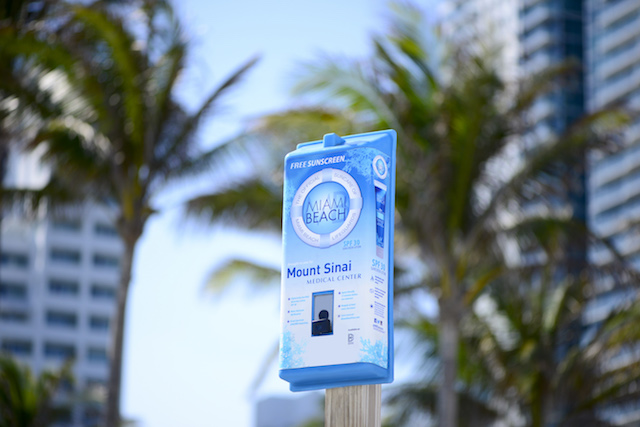 The MB Suncare program also won the 2016 Trendsetter Award at Cosmoprof North America in Las Vegas, allowing the city to win its first industry award. Last year, Mount Sinai committed to donating $70,000 in sponsorship to Destination Brands, which will allow the program to continue through 2022.
But the program has seen a reach beyond Miami Beach. Recently, the Town of Hempstead and the City of Long Beach, N.Y., have implemented their own programs with free suncare dispensers. "They also carry MB Suncare products," Seoanes says.
"The significance of this initiative in increasing sun safety awareness and skin cancer prevention has led to other cities contacting us interested in launching similar programs to benefit their communities," she adds.
The Next Steps
Miami Beach has enjoyed partnering with Destination Brands on the MB Suncare products. "[They have] been a fantastic inaugural partner," Seoanes says. "They believed from the onset that the city's global brand awareness, including our rich history and core equities, could really help us expand beyond the beach and into retail. They also were able to do it on an international scale, which none of us would have predicted so early."
The two organizations recently expanded into kids products, as well as after-sun items that soothe users' skin after being out in the sun and extend their tans. "Now that we've got sunscreen pretty well covered, after-sun was really the next step," she says.
Miami Beach, she notes, is planning to expand its breadth of products beyond suncare. "We're about to start new conversations with potential licensees at the Las Vegas Licensing Expo this June," she says.
The city also wants to begin offering souvenir and lifestyle products that embody the energetic, fun and cosmopolitan lifestyle of Miami Beach. "We hope that these products will allow people to bring a part of the beach lifestyle home with them," Seoanes concludes.