Market Focus
Melrose Family Fashions features non-branded goods at affordable prices. The company strives to be a fashion- and trend-oriented apparel store, one that feels and operates like a larger chain but is in reality a small, non-branded department store. It has targeted the blue collar Hispanic consumer because its roots were established in McAllen, Texas, which has a large lower income, Hispanic population.
"My parents were born and raised in Cuba, and their primary language is Spanish," Bar-Yadin says. "We catered to that population and understood how to connect with them. As we grew into the rest of Texas, we targeted the consumer we were familiar with and looked for parts of the cities that had a large Hispanic demographic."
As a result, the company's marketing efforts remain very much targeted toward that community. Along the Mexican border, the company celebrates the Mexican holidays, as well as American holidays.
"Marketing is one way we reach that consumer, and we try pay attention to what the consumers like in terms of our apparel selection," Bar-Yadin says. "We have bilingual signage in most stores, and most of our staff is Hispanic."
Although the company knows there are some fashion styles that appeal to people across differing demographics, Melrose Family Fashions understands that working class Hispanics tend to prefer colorful and tighter-fitting clothing. That doesn't mean those offerings are only for Hispanics, but the company knows those styles appeal to its target audience.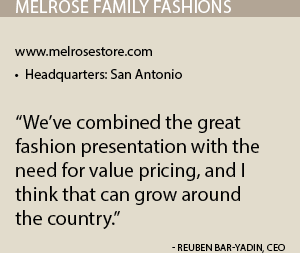 "A lot of our trendy fashions come from the Los Angeles area, which is heavily influenced by the Hispanic market," Bar-Yadin says. "That market also influences Mexico, and we look for styles that are popular with the target consumers in those areas. Some types of clothing appeal to Hispanics more than others, and that is what we look for."
In addition to marketing and merchandising, Melrose Family Fashions has sought to stay ahead of the curve in terms of its store design. The company is constantly trying to modernize to stay fresh and contemporary.
"Many years ago the stores were more basic," Bar-Yadin says. "Now, even though we are a small discount store, we try to give the consumer a shopping experience they can feel good about. Lighting, flooring, signage and displays – they are all important. We are very much into displaying a certain lifestyle through our store design and ambiance. We want our name to become more recognized in the Hispanic community."
Other investments are focused on the back-end of operations. The company is using technology to mine data about what is selling so buyers have more information to help them understand elements such as sizes, trends, colors and themes.
"Now we can drill down into different aspect of the merchandise, using shopping habit data to improve," Bar-Yadin says. "We are also doing more to locate where the customers live and shop, looking at demographic trends to determine where it makes sense to open new stores. We've focused more on social media, too, so we can better connect with consumers."
Expansion Efforts
Considering the changing demographic makeup of the United States, Melrose Family Fashions sees a lot of opportunity for growth. Hispanic populations are on the rise beyond the border states, which presents opportunities for the company to grow in markets it might not have considered in the past. Additionally, the company is looking to grow beyond Hispanic markets and make inroads with other lower-income consumers.
"With the economy as it is now, more people are trying to stretch their dollars, and we take pride in delivering bang for the buck," Bar-Yadin says. "We sell what you see in more expensive stores but at prices that working class families can afford, and we do it in more exciting ways than discount stores. We are a fashion store with a high emphasis on value pricing, offering fashion at a discount."
This sets Melrose Family Fashions apart from stores that are all about fashion as well as stores that are all about discounts and a barebones shopping experience.
"Our store presentation is like a department store, organized in an appealing way," Bar-Yadin says. "But the prices are similar to discount stores. We've combined the great fashion presentation with the need for value pricing and think that can grow around the country."
In fact, the company's biggest focus right now is on growth. Melrose Family Fashions wants to grow its store count within and beyond Texas. Its strategy is to work with the right brokers in select markets to find the right opportunities for new stores.
"The economy is still delicate and there is a lot of competition," Bar-Yadin says. "But we are like many others in that we have to deal with those situations and look for solutions. We can stay relevant through marketing, merchandising and value pricing in contemporary stores, standing out in the minds of our loyal customers."