Most Consumers Still Have Holiday Gifts to Purchase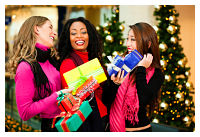 Dec. 11, 2013 – Nearly 9 in 10 (87%) holiday shoppers surveyed still have presents to buy. Recent surveys by RetailMeNot and The Omnibus Company found that nearly 200 million Americans could be shopping up to the last minute. As Christmas grows closer and with the majority of consumers (87%) surveyed still having holiday shopping to do, there will inevitably be last-minute gift purchases for many. In fact, nearly 9 in 10 (88%) winter holiday shoppers surveyed said they have had to buy gifts in the eleventh hour. Parents seem to be the biggest procrastinators. Nearly all (95%) parents surveyed admitted to waiting until the last minute to buy holiday gifts.
With last-minute shopping comes last-minute shipping charges. Since the majority of holiday shoppers (64%) surveyed have had to pay for expedited shipping when purchasing a last-minute gift online, it's expected that this charge did not factor into the original budget for many. In fact, nearly 2 in 5 (38%) who have reported that they have had to pay for expedited shipping have gone over their holiday budget because of these costs.
To keep from breaking budgets this holiday season, one solution is to shop in time for the free shipping option. Free Shipping Day on Wednesday, December 18, 2013, is a promotional holiday when many online retailers offer free shipping with guaranteed delivery by Christmas Eve to encourage shoppers to make their last-minute gift purchases.
"Black Friday and Cyber Monday have come and gone, but the majority of shoppers still have gifts to purchase," says Trae Bodge, senior editor of The Real Deal by RetailMeNot. "Consumers who prefer to do last-minute shopping online should take advantage of Free Shipping Day offers if they want to avoid having to pay for expedited shipping charges and potentially go over their budgets."
The demand for free shipping is certainly growing as consumer preference for online shopping deepens. According to the survey, more than 1 in 4 (27%) online shoppers would not purchase a product online without free shipping. This is an increasingly important promotional offer considering 7 in 10 gift givers surveyed felt that shopping online takes less time (70%), is more convenient (69%) and is less stressful (69%) than shopping in-store.
Additionally, respondents found some of the most stressful parts of holiday shopping to be caused by in-store troubles: lines at in-store checkouts (53%) and crowded stores (40%) rank high on their list of holiday pressures. What's more, 3 in 5 (60%) winter holiday gift givers feel that it is easier to find deals online than in-store when shopping for presents.
According to the RetailMeNot survey, 9 in 10 (90%) consumers consider free shipping to be important when purchasing a product online. Just how important? When shopping online, nearly 2 in 3 (65%) consumers will search for a free shipping coupon if they see they have to pay for shipping, and more than 1 in 4 (27%) online shoppers would not purchase a product without free shipping.