National Hardware Show preview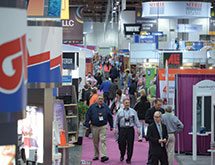 The National Hardware Show is the place to go for face-to-face sourcing, trading and learning, home improvement, and the DIY markets. Scheduled for May 5-7 at the Las Vegas Convention Center, the show is presented by Reed Exhibitions with support from the North American Retail Hardware Association.
More than 30,000 industry professionals attend the show, which will have more than 2,500 exhibitors showcasing product across 15 product categories. Each year, exhibitors bring their latest products and technology to the National Hardware Show for the industry's first look at what's new.
The show allows exhibitors to launch their latest products and for new companies to make their debut. Featured areas on the show floor include New Product Launch, New Product World, Inventors Spotlight, Made in the USA, Homewares Awards Product Display, and Lawn, Garden & Outdoor Living Awards Product Display. New for 2015, new exhibitors will be featured within the product category areas on the show floor.
Among the areas of the show that are continuing to grow are new technology and products within a number of categories, such as emergency preparedness and disaster recovery with portable solar power chargers and accessories, fire prevention and first extinguishers, freeze dried foods and emergency cleaning items. Products and services for retailers, lawn, garden and outdoor living are also growing through organic gardening products, urban farming, rainwater management and more.
This year's new show floor layout features some major changes, which will make it easier for buyers to find what's new and not miss out on any of the networking and awards events taking place throughout the show. The show has moved its Lawn, Garden & Outdoor Living and Hardware categories over to the South Hall, offering one location to see Lawn, Garden & Outdoor Living, Hardware & Tools, Pet Products and Farm & Ranch.
This change also helped reorganize Homewares, PDRA Show Paint & Accessories, Plumbing & Electrical, and International Sourcing in the Central Hall and allowed for the co-located Lancaster Buying Show to be located directly in the Central Hall. The show is moving its feature areas onto the show floor, where attendees will find Made in the USA, NRHA Stage & Village, Homewares and Lawn, Garden and Outdoor Living Awards programs, New Product World, and Inventors Spotlight. Additionally, the Tailgate area has been moved between Central and South Halls, serving as connection point between both halls.
This year, The National Hardware Show will launch some all-new buying opportunities. For the first time, buyers will have the opportunity to purchase pallet quantity and POS displays at the auction located directly on the show floor. This technology driven auction will feature retail ready products that range from new product entries to overstock, package change, seasonal change, promotional, as well as close-outs within every product category.
Also for the first time, the show is facilitating one-on-one appointments for independent retailers and participating exhibitors – offering yet another opportunity for independent retailers to buy and exhibitors to receive added exposure to valuable buyers.
Finally, this year marks the National Hardware Show's 70th anniversary. The show will be celebrating with a 70th Anniversary party on Wednesday, May 6, with live music, prizes, refreshments and more.