Neiman Marcus Unveils the Art of Fashion Campaign Featuring Artist Walter Chin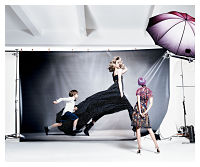 Feb. 5, 2013 – Neiman Marcus announces Walter Chin as the photographer of The Art of Fashion campaign for Spring 2013. The campaign includes twenty-two images of spring fashions and will appear in the March edition of the Neiman Marcus publication, the book.
Walter Chin was born in Jamaica and raised in Toronto. He graduated from art school with a specialization in contemporary painting, followed by a master's degree in photography. Today, Chin enjoys wide acclaim for a body of work that encompasses fashion photography, celebrity portraits, and advertising campaigns for, among others, Hermes, Chanel, Tommy Hilfiger, Missoni and Lancome. The Spring 2013 Art of Fashion campaign offered Chin a chance to blend both sensibilities, the commercial and the personal, tapping into his own aesthetic to create images he describes as "whimsical, graphic, and simple."
"The Neiman Marcus Spring 2013 Art of Fashion campaign and the March issue of the book, share the same theme – the art of imagination," said Eddie Nunns, Vice President, Neiman Marcus Brand Creative. "Walter Chin's inimitable creativity reinforces that theme as he let his imagination loose to showcase our spring collection in a modern way." Other notable photographers of the Art of Fashion campaign have included Richard Avedon, Arthur Elgort, Helmut Newton, Annie Leibovitz, Lillian Bassman and Paolo Roversi.