Pepsi Unveils Its First-Ever Global Fashion Capsule Collection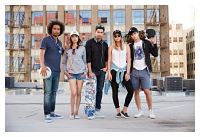 May 21, 2014 – Pepsi today announced its inaugural Live for Now Capsule Collection. Designed to enliven the brand's 2014 football campaign, the Pepsi "Live For Now" collection features streetwear, accessories and electronics created in partnership with a mix of both iconic and cutting-edge international designers including Original Penguin by Munsingwear, B&O PLAY, Gents, Goodlife, Del Toro and SHUT. The collection will be available at leading retailers – Bloomingdale's in the U.S., colette in Paris and Liberty in London.
The pinnacle of the Pepsi "The Art of Football" program, the collection brings distinctive, vibrant artwork from six of the hottest street artists around the world – the UK's professional doodle bomber, Hattie Stewart; Argentinian urban artist, Jaz; Brazilian illustrator and street artist Ricardo AKN; Spanish-based visual artist Zosen; Merijn Hos, visual artist from the Netherlands; and Argentinian street artist Ever – to life in a fresh, exciting way beyond the canvas.
"We were inspired by the link between the sport of football and the world of art – both places where passion leads to great acts of creativity. Motivated by our 2014 global football campaign, the Pepsi 'Live for Now' Capsule Collection brings the best of art and football to life," said Kristin Patrick, Pepsi Global Chief Marketing Officer, PepsiCo Global Beverages Group.
The Pepsi "Live for Now" Capsule Collection features a range of products across categories, including fashion apparel and accessories, electronics and skateboards. The line consists of men's t-shirts, zip jackets and swim trunks from Original Penguin, high-quality headphones from Bang & Olufsen's B&O PLAY line, baseball caps from Gents, luxury t-shirt jerseys and sweatshirts from Goodlife, handmade leather chukka sneakers and slippers from Del Toro and artful skateboards from SHUT – with all items displaying one of the artists' inspired designs.
The Pepsi "Live for Now" Capsule Collection makes its debut today at Bloomingdale's New York City flagship and 15 stores across the U.S., as well as at participating designers' storefronts and online e-commerce. Additionally, colette in Paris will carry the collection and Liberty in London will feature the Original Penguin items.