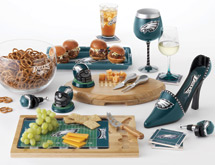 As the sports licensing world gears up for the Sports Licensing & Tailgate Show in January, it's clear that there hasn't been a better time to be involved in licensing products for North America's top professional sports leagues. Whether it's Major League Baseball, the National Football League, NASCAR, the National Basketball Association or the National Hockey League, there have never been so many ways for fans to connect with teams and athletes who are their favorites.
Take, for example, the NFL's recent "homegating" initiative, which is focused on creating licensed products that help football fans recreate the game-day experience in their own homes. As NFL Senior Vice President of Consumer Products Leo Kane explains, "homegating" is aimed at bringing the spirit of being in the stadium to the comfort of the home. "There's no better place in the world to watch an NFL game than in the stadium with 70,000 fans, but most fans watch the games in their homes with family and friends," he says. "It's putting your personal touch on how you celebrate the game with family and friends."
Kane emphasizes the depth and breadth of the products licensed by the NFL under this initiative, saying there are home and kitchen products for every kind of NFL fan, whether their tastes are beer and brats or wine and cheese. "It's everywhere from drinking glasses to plates to serving dishes to salt and pepper shakers," Kane says. "When you're catering to a large, mass-market [audience] like we are, you want to make sure you have something for everyone."
"Homegating" is a trend the NFL was out in front of that the other pro sports leagues are now starting to emulate, Kane says, but the NFL hasn't neglected the traditional tailgate with that focus. Kane says the league just renewed its deal with Coleman to produce tailgating products including portable chairs, shade structures and coolers. "There's probably no sport that people think about tailgating more than the NFL," he says.
The NFL will kick off 2014 with its biggest event – Super Bowl XVLIII. This will be the first Super Bowl game held in a cold-weather climate – at New Jersey's MetLife Stadium – so Kane says there will be extended opportunities for licensing due to the need for cold-weather gear such as jackets and hats. During the lead-up to the big game, the NFL will open a special branded store inside the flagship Macy's store in Manhattan. At 50,000 square feet, the NFL Macy's store will be the league's largest branded store ever.
For the NBA, 2014's licensing campaign gets started with the return of the league's popular holiday jerseys, which will be worn by teams playing on Christmas Day. As NBA Vice President of Licensing Lisa Piken Koper says, the solid-color jerseys have made a big impact with fans. "Following the success of our 'BIG Color' holiday campaign in 2012, the league will continue the big holiday tradition by unveiling an all-new platform tied to the marquee Christmas Day matchups," she says. "As part of the holiday campaign, the league's official on-court apparel partner Adidas will unveil new uniforms that feature a bold new look that all 10 teams will wear on Dec. 25."
Piken Koper says the NBA and Adidas also will offer fans another opportunity to get their hands on a unique type of game jersey during the 2013-2014 season. She says 13 teams will wear special short-sleeve jerseys created by Adidas in more than 51 games during the season. She also says the NBA expects headwear to continue to be an important part of its licensing efforts in 2014, as exemplified by fashion headwear partner Mitchell & Ness. "We anticipate the Mitchell & Ness business to see record growth again this year, especially as they plan for global expansion during the 2013-2014 season," she says.