Professional Bull Riders Inc.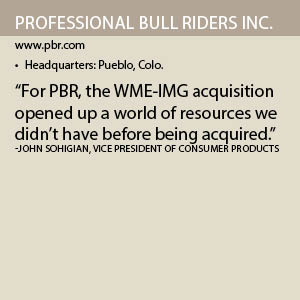 Pure Adrenaline
Of course, the biggest factor contributing to the sport's rise is the incredible fan experience it delivers, both on TV and in person. The atmosphere is electric, to say the least. "It's just a great product," says Andrew Giangola, head of public relations for PBR, and vice president of strategic communications for its parent, WME-IMG. "It's pure escape – epic man vs. beast confrontations all night long."
The basic premise of the sport is simple. Once the gate opens, a bull rider must stay on a 1,800-pound raging bull for eight seconds to achieve a score. The ride is scored from 0-100 points. There are usually four judges; two score the bull, and two judge the rider. Both human and bovine athlete can receive 0-50 points. The combined point total from the four judges make up the final score for the ride.
Typically, scores in the eighties are considered very good, while scores in the nineties are considered excellent, and very rare. It's the equivalent of the grand slam homerun in baseball: very exciting, but rarely seen.
Points are accumulated throughout a PBR Built Ford Tough Series season, with a winner crowned at the end of the season. The season is made up of two halves. The first is from January to May, and the second half is from August through November. This allows the bull riders to recuperate from injuries as well as participate in other rodeo events throughout the summer. This also gives fans a chance to follow bull riders and check standings throughout an entire season, building interest and creating a solid fan base for PBR.
"People are starting to get more connected to the bull riders," says John Sohigian, vice president of consumer products for PBR. "Through vignettes on CBS, increased media outreach, and a concerted effort to increase the riders' social and digital presence, we have more ways to tell their stories."
With all of the excitement generated by popular bull riders, it's easy to forget that there is another group of stars for fans to follow as well: the bulls. "Without a doubt the animal athletes of the PBR are every bit as part of the show as the riders," Sohigian says. "And they know they are performing. It's fun to see a bull kick his legs in the air and acknowledge the crowd after a ride."
The amped-up presentation of the sport also keeps fans engaged. Between rides, loud rock music is played as announcers offer commentary on the various riders. And during timeouts or commercial breaks, Flint Rasmussen, PBR's version of a rodeo clown, works the crowd and entertains the audience with humorous bits about himself, crowd members and the riders.
It all adds up to a fascinating mix of sports, entertainment, rock music and pyrotechnics. "In this day and age, you have ever shortening attention spans," Giangola notes. "PBR is eight-second bursts of mayhem. It's a sport based on old-time traditions that's at the same time seemingly tailor-made for today.." And it isn't just in western or rural areas. PBR drew more than 30,000 fans to Madison Square Garden in New York in January.
PBR's steady rise in popularity also stems from a fan base that isn't limited to the United States. PBR has bull riders from Canada, Mexico, Australia and Brazil on its circuit. In particular, bull riding in Brazil has reached impressive heights. More people in Brazil attend bull-riding events than even soccer, according to Giangola. And Brazilian riders continue to gain in popularity, as currently 11 of the top 30 ranked riders are Brazilian.
WME-IMG Influence
As the sport continued to grow in popularity with a more mainstream audience, talent agency WME-IMG took notice. It purchased PBR in 2015, and neither organization has looked back since.
"For PBR, the WME-IMG acquisition opened up a world of resources we didn't have before being acquired," Sohigian says. "It has made all the difference as we continue to build the brand."
First and foremost among those resources was research data. WME-IMG immediately delved into the profiles of 30,000 typical PBR fans, sending out questionnaires and finding out key traits such as where they shop and what they like to do. "That really helped us in determining the types of licensing partners we wanted to go after, and it gave us the ammunition we needed to land them," Sohigian notes.
This type of information has proven to be a huge resource to Sohigian, who is on an executive team tasked with pushing bull riding from what many consider to be a niche sport into the mainstream. Since the WME-IMG purchase, the results have been spectacular. In fourth-quarter 2016 alone, PBR signed seven new licensees.
Significantly, the newer licensees offer much broader distribution for PBR, whereas before the only licensees PBR could get were mostly limited to the western market or agricultural regions. As a result, PBR is starting to see companies such as clothing designer Affliction, with products available at Macy's, sign licensing agreements. Additionally, PBR also renewed its agreement with Two Horns Wine, "The Official Wine of the PBR," which is distributed through retailers such as HyVee, Giant Eagle, Harris Teeter and Jumbo Jim's in Cincinnati.
Those licensee agreements join some strong existing relationships, including PBR's two biggest sponsors, Ford Motor Company, which sponsors the league's premier "Built Ford Tough Series" to showcase its F-Series trucks. Monster Energy also remains a strong sponsor, and PBR fits right into that company's strategy of building its brand around action sports.
PBR is also strengthening its relationship with the world's largest retailer, Walmart. In 2016, the league began an innovative marketing program bringing "retailtainment" events to 40 Walmart stores aligned with its tour dates. PBR riders and bulls will entertain and inform fans at more than 100 Walmart locations this season.
The year 2016 saw great gains with technology partners as well. Maingate was signed as an e-commerce partner, focusing on event merchandising display and sales, as well as managing online sales by improving PBRshop.com.
Also in 2016, PBR worked with leading game developer Rare Labs to release a new mobile game, 8 to Glory, which is available for IOS and Android devices via free download. The game features 30 top PBR riders and the leading PBR bulls, and should help younger generation fans get more involved with the sport.
In addition to licensee partners, PBR has begun experimenting with safety equipment, realizing that nothing is more important than the safety of its riders. PBR recently began a partnership with EVS safety gear, a maker of protective equipment for motor cross riders. "Early results have been promising," Sohigian says. "Many riders have taken to wearing the equipment, and like it for its light weight and flexibility."
World of Possibilities
In addition to attracting more fans and viewers, PBR has a growing following on social media. In 2016, among all major sports, it ranked No. 1 in fan engagement on Facebook, had the highest engagement rate on Twitter, and had the highest growth rate in Instagram, according to CrowdTangle.
Of course its most important medium remains television. PBR viewership on CBS grew 12 percent in 2016, and several times in its 2016 season its telecasts were the highest-rated weekend sportscasts outside of the NFL.
It is also important to note that CBS broadcasts PBR events not just on its sports cable network, but on its main "mothership" network as well as the sport gains in popularity. WME-IMG has even branched into documentary films, producing "Fearless," a critically acclaimed six-part docu-series on bull riding seen on Netflix.
As the sport continues its move into the mainstream, the job of selling and marketing it gets a bit easier. "It's an educational process: one fan, editor, and potential partner at a time," Giangola says. "The yet-uninitiated who get up close to professional bull riding inevitably come away impressed and eager to see more."
"For us," Sohigian adds, 'the groundwork has started. It's baby steps. You have to get stores to take a risk, and you have to be able to say, 'This makes sense for you.'" Indeed, for Sohigian, the success of the brand can be traced to character traits in the riders themselves: "It's cowboy values, it's toughness and character, and it embodies the American spirit."