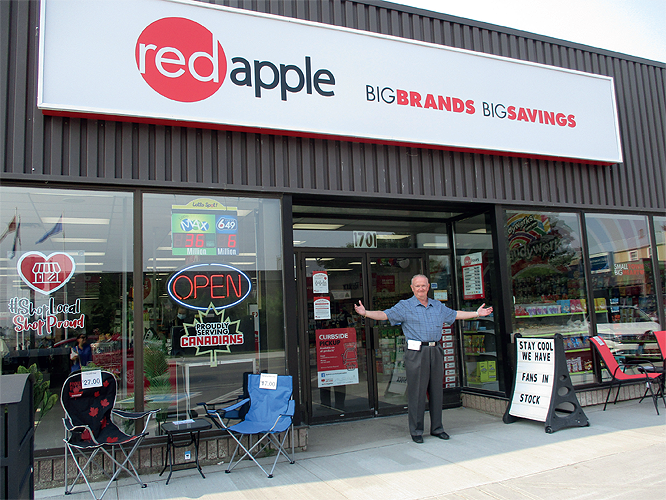 Small-town stalwarts
On a quest to become Canada's favorite small-town general merchandise retailer, Red Apple Stores is continually improving and adding to its 142 locations across the nation
'Meeting everyday needs and more', Red Apple Stores is a retailer built on the strength of big brands, big savings and small towns. Operating 142 outlets across rural Canada, the organization's network of bargain stores has become well-known for providing convenience, value, quality and friendly service.
"Of the 142 sites we operate across Canada, 83 are Red Apple stores and the remainder are known as The Bargain! Shop – an independent brand that has been part of our company since 1999," explains President and CEO Clinton Wolff. "In short, Red Apple stores are modernized versions of the older The Bargain! Shop locations. Both brands operate as general stores for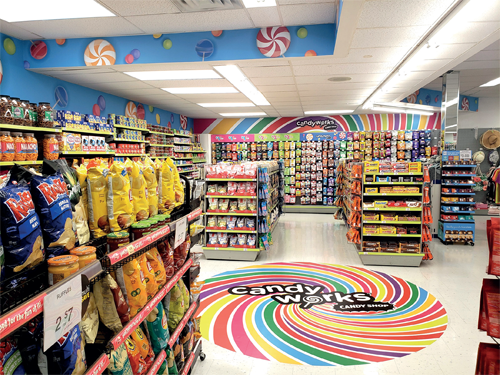 smaller towns, providing local people with toys, food, candy, health products, fashion, footwear and more, but we are always adapting, renovating and improving our portfolio so that it falls in line with modern demands."
Since the company's inception, Red Apple has built its retail experience around convenience. A far cry from North America's cavernous major supermarkets, Red Apple stores are quick and easy to navigate. Generally, sites are about 7000 square feet and serve an average of 4700 people, while still providing local populations with basic needs and unusual finds.
"First and foremost, we want our stores to be close to our customers and we want our customers to be able to get in and out very quickly," Clinton reveals. "However, more than just the base assortment of everyday items that customers can count on us to carry, we also provide more unexpected finds.
"At Red Apple, we purchase stock as part of deals and surprise the customer with rare brand name products at great prices. It makes us two stores in one, in a way. Primarily, we are a basic, local, convenient, everyday needs place for people who don't want to drive to a store in the city, but while those customers are with us, they're going to find something they didn't expect as well."
The retail proposition Clinton outlines, and the unique position it occupies in the Canadian market, means that Red Apple stores have become the hub of local communities across Canada and an essential part of everyday life for many Canadians. This connection with the communities of small-town Canada has become so important to Red Apple that it is now viewed as one of the company's core values and is supported by a variety of in-house social initiatives.
"We want to make sure that we become an important part of our local communities, so one of the initiatives we run is a "Shop Local Shop Proud" campaign to promote our position within the market. We also operate Together We Care, which is a branch of our business involved in community events, including food drives and our major annual toy drive. For the latter, we team up with a local charity and spearhead a three-week-long event from mid-November to early December, trying to get as many toys as possible for kids in local markets."
In 2020, Red Apple's Together We Care Toy Drive once again ensured children in local communities had something under the tree to open on Christmas morning. On December 5th, Fill-a-Sleigh Day brought proceedings to a close as stores came up with festive ways to celebrate. Along with the toys and gifts donated, monetary donations from customers, combined with a contribution from Red Apple, reached a total of $682,592, which was also used to purchase presents for distribution to Canadian families.
"We really wanted to give something extra back to our local communities this year, so we increased our cash donation to ten percent of all sales on Fill-a-Sleigh Day – not just toy sales, as in past years," Clinton points out. "After seeing the results from our fourth Fill-a-Sleigh Day and Annual Toy Drive, I have to say that the spirit of giving is alive, and we cannot thank our loyal customers enough. They truly embody Red Apple and The Bargain! Shop's values of community connection and giving back."
By empowering store managers to make specific donations relevant to their local communities, Red Apple is able to ensure that no single town or area misses out on support for parades, fundraisers and other events. "Our mission statement is 'To become Canada's favorite small-town general merchandise retailer'," Clinton confirms. "In order to do that, we must make sure that people prefer us not only because we have great products at great prices, but because we are more than a retailer – we are part of the fabric of their local community."
Over the last 18 months, in light of the challenges posed by the Covid-19 pandemic, community has been more important than ever for Red Apple. Designated as an essential retailer by the Canadian government at the outbreak of the virus, the company's stores were a critical service provider in a time of need for the nation's people.
"We were able to keep our stores open throughout the entire Covid-19 period, which is quite an achievement," Clinton states. "By adapting our rules and keeping our doors open – we offered special bonuses to our employees to help them out – we were able to give our customers what they required.
"A lot of people couldn't make long journeys into cities, so they really needed us. We also won a significant amount of new business from customers who might usually shop elsewhere, but soon realized that we could provide them with the products and experience they desired.
"The thing I am most proud of," Clinton adds, "is that, despite the increase in demand, we did not raise our prices except for when our own costs were increased. I felt it was very important to keep our prices low and maintain that level of trust, so even when toilet paper and paper towels were absolutely impossible to get elsewhere, they still cost the same at Red Apple as they did before the pandemic."
One key factor behind Red Apple's recent success, even in the face of unprecedented difficulties, has been the company's strong, open and well-established relationships with its vendors. The key to these connections, Clinton suggests, is ensuring that they are mutually beneficial.
"If you have a relationship where somebody wins and somebody loses, you both lose because that relationship simply won't continue," he remarks. "Our approach is collaborative and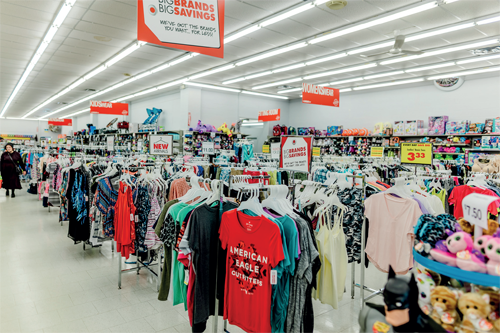 involves inviting our vendors to an annual summit where we give them an update on how our business is doing, what we're looking for next, and any initiatives we're undertaking.
"Open communication makes for better relationships, and better relationships enable us to continue providing our customers with unexpected finds and great deals.
By developing trusting partnerships with major companies, we are a first port of call when a vendor has product to offload due to a packaging change, an experimental flavor or a cancelled order. We can help out these businesses by taking items off their hands and selling them in our stores, where they are a really exciting novelty for our consumer."
Equally crucial to Red Apple during the pandemic has been the company's workforce. An essential asset to the organization in a time of crisis, store associates have, according to Clinton, excelled in their selfless dedication to Red Apple customers.
"While the challenges of this past year have left an indelible mark on all communities across the country, the small towns that we call home have been especially hard-hit by the restrictions on retail. We are proud of the ongoing efforts made by our warm and welcoming staff and will continue to do everything we can to keep our customers and team members safe," Clinton asserts.
"We are sensitive to the ongoing concerns that customers and team members are experiencing due to the pandemic, and in part," he adds, "that is why we have been offering a curbside pick-up service. With curbside pick-up, customers can call or email their local store to place an order and then have their purchases delivered to them at curbside, all while maintaining appropriate physical distancing both from our Store Associates, as well as from other customers."
Thanks to careful, forward-thinking management, and the support of its vendors COMand staff, Red Apple was recently able to add to its portfolio, announcing new Red Apple Stores in Wawa, Ontario, Crystal Beach, Ontario, and La Ronge, Saskatchewan. A newly renovated store in Fort Qu'Appelle, Saskatchewan was also unveiled by the business in June 2021.
"Every year, we convert some of our old The Bargain! Shop locations to Red Apple stores, so we've done a few of those this year," Clinton notes. "It's a more challenging enterprise than in the past – the current climate means it can be tough to find available contractors – but we always make sure the store's standards are increased, including improved lighting, flooring and finishes. We want to transition all our outlets into the new Red Apple format, which is a major undertaking, but our customers deserve it."
Having carried out half a dozen of these transformations so far in 2021, Red Apple now plans to open three new stores in new markets by the end of the year. "There are still a lot of underserved markets in Canada," Clinton reports. "Our aim is to identify the small towns that could benefit from Red Apple and expand into them, with a focus primarily on Western Canada and Northern Ontario, where a lot of locations are very isolated."
Following efforts to perfect its concept, Red Apple now believes that its stores can operate effectively from a smaller footprint – a discovery set to open up a host of new opportunities for the organization across small-town Canada in the years ahead. "In the next three-to-five years, I envision us opening more and more stores in the smaller, underserved markets because we have perfected our 'small store format'," Clinton declares. "There aren't a lot of people who can build 10,000 square foot buildings in towns of 2000, 3000 or 4000 people, so by focusing on operating more efficiently in a smaller space, we think we can actually start rolling out stores more aggressively.
"As I mentioned, we will be focusing on Northern Ontario and Western Canada, as well as more and more sites further afield. We want to stay true to our mission of becoming Canada's favorite small-town general merchandiser, so we will continue to add stores because there are people in hundreds of small towns out there that would love to have a Red Apple in case they need a toaster, a pair of socks, or some other basic need that they don't want to drive hours to find. We have a great opportunity in this space to expand our concept and bring Red Apple to more and more locations across the nation."