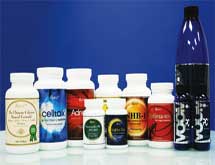 This vertically integrated nutritional supplement manufacturer and distributor broke into the retail world by continuing to deliver quality ingredients and effective formulas designed to improve lives. When Rod Burreson started Roex, Inc. in 1994, he gave away his product for free. Because he believed so strongly in the nutritional benefits of PC-95 (procyanidin), the former bodybuilder and health enthusiast knew that once his clients tried it, they would be convinced of the benefits of taking it.
Burreson was first introduced to PC-95 by a European cardiologist looking to bring the pharmaceutical-grade grape seed extract to the states. After buying some of the raw material and testing it in a lab, PC-95 became the company's first product. Burreson believed so much in its health value that he began giving it away to clients of his insurance practice. When more than half of his clients came back wanting more, he knew his theory was correct.
Fifteen years and $23 million later, Roex has become a major player in the nutritional supplement industry by sticking to Burreson's passion for nutrition, high-quality products, and a desire to help others achieve overall health.
Roex's initial marketing efforts included a radio show in which Burreson's segment, "The Truth About Nutrition," led to a loyal customer base of listeners seeking more information on nutrition. "Burreson had such a good response from the 30-minute show in Los Angeles that the same client offered to introduce him to a colleague in New York," said Chris Bolduc, vice president at Roex.
Burreson got a time slot on a 50,000-watt station in New York, and soon his message was resonating with listeners on both sides of the country. "The goal from day one," said Bolduc, "has been to provide a superior product than commonly found in health food stores and make it affordable."
The missing link
The missing link to nutrition for most people is the lack of information and/or the quality of the information they receive. People are often subjected to confusing marketing information, thereby purchasing products that don't work. Often, they give up on supplements as a whole.
Roex is vertically integrated, which means it does everything from manufacturing to selling its products. The inhouse manufacturing ability allows Roex to control the quality of products and guarantee product quality, potency, and freshness.
Recently, the US Food and Drug Administration implemented CGMPs (current good manufacturing practices) that will hold vitamin and nutritional supplement manufacturers to a higher level of manufacturing standards, similar to that of pharmaceutical companies. Although many in Roex's industry may see this as a challenge, Bolduc said the company welcomes these changes and has already made great strides toward being a leader in nutritional supplement manufacturing and sales.
For years, the company has relied on third-party labs to test ingredients or to run comparison tests. One example is Massachusetts-based Brunswick Laboratories, the premier provider of ORAC (oxygen radical absorption capacity) testing. "It's the same lab that does the testing for the Department of Agriculture," said Bolduc. "Having those test results back up our products is the best proof of their effectiveness."
The evidence-based results also back up Roex's value statement as a more cost-effective product for the consumer. Brunswick Laboratories performed an ORAC analysis on Roex's PC Voom, comparing it against other leading brands. The findings conclude that PC Voom offers more than three times the antioxidant of other brands tested, with an amazing ORAC rating of 11,032.
"We have superior products and a better value statement, which hits to the core of what people are looking for now" said Bolduc.
Direct-to-retail
When Burreson ended his radio show in 2008, he was on roughly 80 stations nationwide, reaching almost 4 million listeners a day. And although the company was successful with a radio-only platform, it was only reaching a niche customer base. So, with a loyal customer base in tow, Roex began complementing its direct-to-consumer strategy with a direct-to-retail one.
The beauty of Roex's radio customer base is that it has helped the company stay ahead of the industry curve. "There is no better focus group than talking to and getting feedback from 4 million listeners a day," said Bolduc. "We develop products based on what consumers say are their nutritional deficiencies."
By listening and responding to its listeners, Roex has also created customer loyalty. "People understand we care about the products, we have unique formulations, and our products work," Bolduc continued. "They're not going to be sold into something that's a gamble when they know our products work, and our retailers tell us the same thing."
Bolduc said 90% of Roex's business is direct-to-consumer. Roex has a database of approximately 100,000 customers who have purchased products directly through its call center and or Website, many of which Roex has maintained an ongoing consumer relationship with. In recent years Roex has been able to maintain an average sale of $150 and a low rate of return, which speaks well for the company, its products, and its prospective retailers.
Through Internet touch points, Roex promotes both its retailers and its products. The company recently developed a character called Health Nut. Consumers are given the opportunity to sign up to be a Health Nut to receive discounts, samples, and coupons. By using this tool, as well as print advertising in magazines such as Natural Solutions, Fitness, and Working Mother, Roex directs its customers to retail locations.
"We give them coupons so they can go into a Vitamin Shoppe or any of our independent retailers to get product discounts," said Bolduc. "We have the ability, unlike other companies that are totally dependent on retail, to drive a loyal base of customers to our retailers."
Since entering the retail world, Roex's inhouse manufacturing capabilities have also become a benefit to its retail partners. Roex uses just-in-time manufacturing practices to ensure that its products are not only the most effective but also the freshest.
"This is just another reason people have come to rely on us: our products are always fresh, so they're more potent and they work better," Bolduc said. "It's what keeps a happy customer, and it's why we do it."