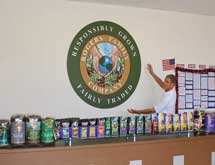 By developing long-term relationships with farmers, vendors, and retailers, this coffee company is a cut above. For Rogers Family Company, selling coffee is about more than turning a profit; it's about making sure everyone involved in the process benefits. "To have a successful transaction, everyone has to win," said Jon Rogers, president. "It has to be good for the farmer who grows the coffee, the people who ship the coffee, for us, and the retailers. Most importantly, it has to be good for the consumer."
To ensure those kinds of winning relationships, the company is intimately involved with every stage of the coffee growing, roasting, and distribution process. "We buy our coffee directly from the farmers," said Rogers. "We want to develop personal, long-term relationships with our farmers. We want them to realize that we need them and want to keep them in business."
The company's commitment to farmers extends beyond buying their beans. "When you visit these farms and see how the people who work on them are living, you would have to be pretty hard-hearted not to want to do something about it," Rogers said. "About 15 or 20 years ago, we started Coffee Community Aid to help meet their needs."
Housing is the most important need the community aid program addresses. "Instead of little shacks where 100 people were in one room, we built housing with individual rooms for the families, laundry rooms, bathrooms, showers, and cooking areas," said Rogers. "Last year, we spent about $1 million on the construction and maintenance of facilities, and we've been doing this for about 20 years. We've built daycare facilities as well as medical facilities and schools."
The company takes a hands-on approach to improving the lives of the farm workers and their families. "You can't just send a check down there because it will disappear," said Rogers. "We get invoices and pay for every specific item we use. We also go down to most farms at least twice per year, so if someone says there is going to be a new building there, we can darn well tell if it is there."
Better beans, longer roasting
Rogers Family Company knows that to keep its customers coming back, it has to deliver a superior product. "Some retailers only care about price, but that's not the way we operate," said Rogers. "There are a lot of ways you can lower the price. You can use all cheaper beans or use a blend with cheaper beans. Quality in the cup begins and ends with the beans, and with coffee beans, you get what you pay for."
Rogers said his company uses nothing but the highest quality coffee beans from the premier growing areas of the world. The company strongly encourages its farmers to grow shade grown, organic coffee beans.
Although the past decade has seen more gourmet coffee companies expanding into the market, that wasn't the case when Rogers started his business a little over 30 years ago. "A lot of the big guys tried to compete on price," he said. "They kept cheapening the product until the taste was harsher and harsher. Kids would try it and wonder why anyone would drink coffee because it didn't taste very good."
With its focus on finding the best beans and using better roasting techniques, Rogers was ahead of the curve. "When you put 1,000 pounds of beans in a roaster, you get less out depending on how long you roast," said Rogers. "If you roast the beans lightly, the shrinkage is going to be around 10%. Our shrinkage is around 20%, but we feel that is where the optimal flavor is."
From the farm to the market
Getting quality roasts into the right hands means building strong relationships with retailers and wholesalers that care about coffee quality. "We deal with a lot of very good cuppers," Rogers said. "A cupper is a person who can taste coffee and do a pretty good job of separating the wheat from the chaff."
The company's biggest customer is Costco. "Costco buyers have been to the source and visited a number of our farms," Rogers said. "Many of them are very good cuppers, and they are interested in quality."
Rogers said the company constantly looks for new retailers to stock its products. "We have to adapt to the marketplace," he said. "When you go to a retailer and they have 20 brands all over the place, it can be mind boggling for a consumer to decide which one to buy. If we find a retailer who is interested in us, we go full bore to bring it on board."
In addition to the high quality coffee roasts, some retailers are interested in supporting the company's community aid program. "We are selling two pound bags of our San Francisco Bay brand in Safeway supermarkets in large part because Safeway was interested in the community program," Rogers said.
As the company continues to grow, Rogers said it will look to add more retailers and farms to its portfolio. Making sure that everyone involved in the process benefits will continue to be the company's guiding principle, he said.
A recent trip to Costa Rica highlighted some challenges the farmers in the coffee trade are facing, according to Rogers. "A decade ago, Costa Rican farmers sold 5 million bags of coffee," said Rogers. "This past year, they sold 1.5 million bags."
Coffee production is falling in the country because of a combination of urbanization and falling coffee prices. Rogers said coffee companies have to find ways to encourage coffee production that benefit the companies and the farmers.