Sanrio Tees it Up with Loudmouth Golf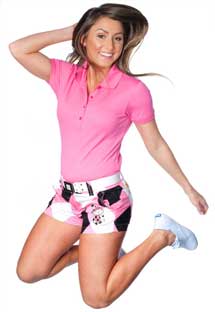 May 14, 2013 – Sanrio, Inc. – best known for global pop icon Hello Kitty – and Loudmouth Golf, the leader in bold and bright golf apparel, have announced a partnership on a unique line of golf apparel — Hello Kitty by Loudmouth Golf.
"After meeting with the Sanrio team, we knew a Loudmouth Golf-Hello Kitty partnership was too much fun to ignore," said Larry Jackson, Loudmouth Golf CEO. "We know golfers of all ages will enjoy this line. Be sure to keep an eye out for Hello Kitty on the 2013 LPGA tour," adds Jackson.

"Sanrio continues to offer Hello Kitty fans an ever-growing selection of products to fit their lifestyle," said David Marchi, Sr. Director of Brand Management and Marketing. "Our partnership with Loudmouth Golf is a great addition to our sporting goods category and provides a fun new assortment for Loudmouth fans. The collection debuts with Hello Kitty in Loudmouth's signature bold colors and patterns."

The first 'Hello Kitty by Loudmouth Golf' collection is available in three ladies silhouettes, including pants, skorts and mini-shorts — in four playful Loudmouth patterns – "Pink & Black," "Oakmont Houndstooth," "Blue & Gold" and "Red Tarzan." The 'Hello Kitty by Loudmouth Golf' collection is available today on the Loudmouth website, as well as in their made-to-order section. Made-to-order is Loudmouth's flexible way for customers to order pants to their exact specifications and in various styles. The collection will also be offered on Sanrio.com and select Sanrio stores in 2013.

"As a designer, I had a great time dressing Hello Kitty in Loudmouth's patterns," said Woody Woodworth, Loudmouth Golf Founder and Designer. "I think Hello Kitty looks very cute and I can't wait to see the new line on the links," adds Woodworth.