Founded in 1974, Shoe Sensation has consistently grown the number of its stores – growing from 62 stores in 2007 to nearly 200 retail units today. The company has developed a reputation for providing quality and brand-name footwear for the entire family. From toddlers to seniors, it offers a large selection of dress, casual, athletic and work and safety footwear within the walls of every store.
"We are a mid-tier quality footwear retailer with very good brand representation and market penetration," CEO Dave Schoengart says. "We give a tremendous amount of selection to customers in small towns that would otherwise be underrepresented."
Shoe Sensation carries national brands such as Fila, Skechers, Clarks, Crocs, Earth and Easy Street for women as well as an extensive collection of junior and children's shoes from Rocket Dog, Fergalicious, Jellypop, Sperry, Nike and Bearpaw. Prominent men's brands include Dockers, Dr. Martens, Timberland, Lugz and Durango.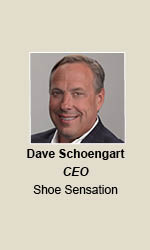 A wide range of athletic shoes – from Under Armour, Nike, New Balance, Adidas, Asics, Puma as well as the latest lifestyle brands like Converse and Vans – are also available at Shoe Sensation. In addition, the company sells work and safety shoes that include brands such as CAT, Timberland Pro, Wolverine and Skechers Work.
Brand Partnerships
Always on the lookout for the latest styles and brands, Shoe Sensation formed a new vendor partnership with Hey Dude. Its shoes first emerged on the market in 2008 with lightweight, comfortable, stylish and affordable well-made shoes.
"We discovered Hey Dude shoes about 18 months ago while visiting stores and reviewing retail trends in southern Oklahoma but we had not heard of the brand, "Schoengart says. "I bought a pair and now Hey Dude is in all stores. We're always looking for something new."
Although Shoe Sensation is always looking for new vendors, it also looks for ways to strengthen and improve its current partnerships.
"A tenured relationship that continues to improve every season is with Clarks," Schoengart says. "We've improved our marketing methods, in-store visual branding and stock availability allowing for improved brand awareness and market penetration."
One way that's being accomplished is by hosting "trunk shows," events in which vendors present merchandise directly to customers and store sales associates at retail locations. Customers can view an entire line and have the option to order products that are not available instore. It also allows store associates to learn about, interact with and understand the features and benefits of the brand.
"Trunk shows are an example of how we interact with our communities," Schoengart says. "These types of community events allow the sales team to interact with our customers and establish a genuine relationship."
A Community Connection
Aside from offering "sensational prices close to home," Shoe Sensation prides itself on giving back to the communities it serves by partnering with local charities and nonprofit organizations. It strives to be a community partner that has an impact within the communities it serves.
"We understand that we must connect with our customers and our communities," Schoengart says. "If we don't connect with them, we don't have a prayer."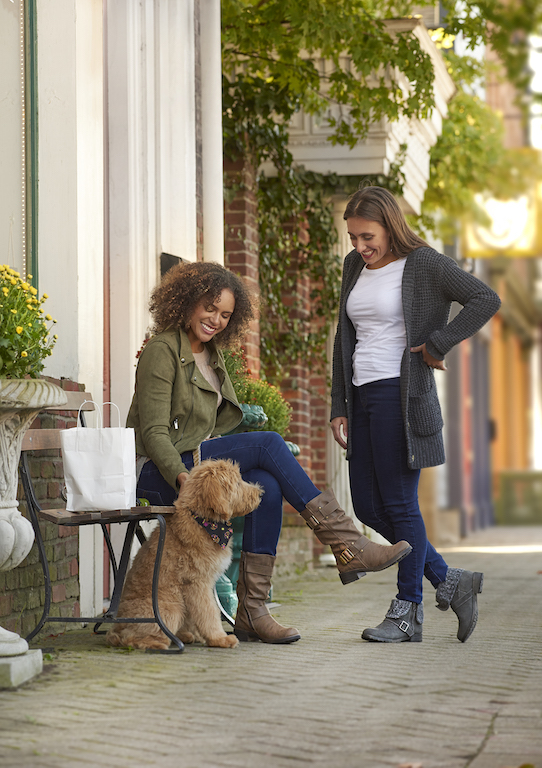 One of the first things Schoengart did when he became the company's CEO is to identify and write out the company's two important initiatives – to embrace a connection with the community both inside the store and out and become the employer of choice.
"We are focused on connecting with our communities both internally and externally," Schoengart adds. "The internal connection is about building a relationship with our customers when they are in store. If they feel good about Shoe Sensation, they will come back. But we also must connect with them outside of the store by supporting local causes and community events."
Schoengart says that connecting with a community begins by understanding the culture of its people. "Once we understand the culture and community events, we can then partner with those who call that community home," Schoengart says.
The company uses various avenues through which it connects with the communities. Local chambers of commerce are its first stop. "The chamber is a fantastic resource when learning about each community," Schoengart adds.
In addition, Shoe Sensation partners with local and regional charities and other organizations focused on providing services within their communities by offering opportunities to improve the awareness of their specific mission.
The company also gives back by participating in various community fundraisers such as bake sales, silent auctions, children's events and through the collection of donations in its stores.
For example, Socks for Troops started as a community event in one store and is now a company wide effort to support veterans and active duty military personnel. Shoe Sensation customers, store teams and communities have donated more than 300,000 pairs of socks and boot laces since 2012.
In addition, Shoe Sensation accepts vouchers from corporate and industrial clients, schools, churches and other local organizations. Each store offers a wide range of work and safety footwear – allowing employees from community partners to obtain specific footwear and accessories using a voucher with billing being handled by Shoe Sensation.
In some cases, store employees have been asked to set up temporary shoe stores within an industrial plant, allowing employees easy access to the needed footwear.
"We responded to the ask and did just that – set up a small shoe store within the industrial plant in order to service that customer effectively and efficiently," Schoengart says.
Employer of Choice
According to its website, Shoe Sensation has roughly 30,000 square feet of offices, a 150,000-square-foot distribution center and 2,000 employees during peak season.
The company operates in 19 states that range from the eastern border of Pennsylvania, north to the upper peninsula of Michigan, west to Kansas and south to Tennessee/Alabama border. It typically expands its small-town presence through organic and strategic growth plans.
"Since we are a small town retailer, we serve what we classify as underserved communities," Schoengart adds.
The company also believes in hiring its management staff directly from the local community. This allows it to further become part of the communities serves.
Competitive wages, employee discounts, benefits packages and a work-life balance are a part of the company culture. "All work and no play? Not here. Our flexible vacation and PTO plans encourage our employees to take time off so they can come back refreshed," states the company website.
Shoe Sensation prides itself on retaining its employees and listening to their needs. A recent company Employer of Choice survey found that employees wished to expand paid time off opportunities and have additional health care options.
The company listened by offering additional opportunities in each of the requested areas. "If you make your employees happy, they will be more productive and you'll retain them."
The Employer of Choice survey also revealed some surprising discoveries. "It's amazing to me that when we ask people what will make them happier members of our team, it doesn't always equate to dollars," Schoengart adds. "One of the things that came up, which totally surprised me, is 'can I bring my dog to work.' Instead of saying that's ridiculous, I asked them further questions and we came up with a new policy about dogs at work. This discussion manifested into a request for a company dog."
Meet M.J.
She was named after the Mary Jane style of shoes as a result of a companywide contest. Meet M.J., the newest addition to Shoe Sensation's corporate family.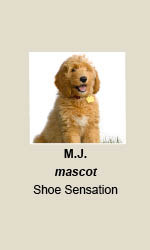 A Goldendoodle, M.J. is the company's new official mascot and all-around cheerleader. Like everybody else, the pooch comes into the office almost daily. She works from the company's corporate headquarters with duties focusing on marketing and public relations – and she's being professionally trained to allow for store visits and participation in community events.
"She doesn't travel yet because she's only 32 weeks old," says Schoengart, adding that he visits M.J. first thing every morning.
M.J. is somewhat of a social media maven. The pup has her own Instagram page (SHOESENSATIONMJ) where her followers can see photos of her lounging around the office, barking at bubbles and taking her seat in a corporate conference room chair. "Follow me and my life around the office," her page declares.
"She understands and works the office circuit," Schoengart says, laughing. "She knows who has treats and who doesn't – and if you want a meeting with M.J., you have to have a treat ready."
M.J. is a perfect example of how Shoe Sensation responds to its employees' needs and strives to be the employer of choice.
Capital Investments
Another way that Shoe Sensation is investing in its employees is through a large capital investment in retail workforce management software. This year, the company entered into a partnership with Reflexis, a leading provider of real-time store operations solutions.
"This is our largest capital project in the history of our company," Schoengart says. "We will be active with our first module in mid-May with full implementation in 2020."
The first module is the real-time task manager. It's a store operations solution designed to simplify tasks for store associates. With Real-Time Task Manager, employees can improve store execution and manage by exception in real time with a single, comprehensive solution. They can communicate, organize and prioritize tasks automatically based on best practices.
"We did not have an efficient system which led to the relationship with Reflexis," Schoengart says. "Our communication and tasking system was e-mail based and inefficient."
According to the Reflexis website, other modules include workforce scheduler, storewalk, employee self-service, time and attendance and intelligent forms.
"The workforce scheduler will be the most complex," Schoengart adds. "It has the ability to forecast store traffic trends, allowing for the precise and most efficient scheduling of associates at the appropriate times in order to give our customers the focused service they desire."
In addition to the new software from Reflexis, Shoe Sensation has improved its marketing efforts in the past two years when it partnered with M Spark, one of the nation's dominant providers of direct marketing services to rural consumers.
The company combines analytics with data-driven direct mail and digital solutions to target the consumers most likely to buy its clients' products and services.
"They have a great team of analysts that help us get the biggest bang for our buck," Schoengart says. "Digital marketing is important too, but we haven't lost the need for print representation. They have been a great partner to help us get more distribution for our advertising spend."
Over the years, Shoe Sensation has achieved success through superior merchandise assortment and outstanding customer service within a well-designed and comfortably appointed store environment. By creating an exciting branded shopping experience for customers and offering growth opportunities for associates, Shoe Sensation continues to be a winning retail concept.