Simple Skincare Partners with Actress Allison Williams in her First Endorsement Deal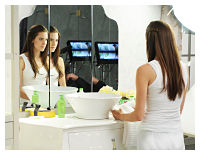 Feb. 7, 2013 – One of Hollywood's hottest new IT Girls, actress Allison Williams, today launched her first big beauty deal with Simple, a range of facial skincare products that is perfect even for sensitive skin. The new marketing campaign reveals how Williams relies on Simple products to counter the many factors that can trigger her sensitive skin, including make-up, weather and pollution. It also highlights Simple as a brand that knows what is left out is just as important as what is put in; none of the Simple products contain dyes, artificial perfumes or harsh irritants that can upset skin, just our purest possible ingredients for natural, healthy looking skin. The new television commercial debuts nationwide on February 11.
"As a longtime fan of Simple skincare, I was so excited when they approached me about becoming their brand ambassador," said Williams. "I love that their products keep my skin healthy-looking, without irritating it, because Simple is made for sensitive skin, like mine."
Sensitive skin is an issue for 58% of women1, just like Williams. Williams believes in the brand's holistic approach to skincare and loves how Simple uses experts – the Simple Advisory Board – to educate women about the different factors including diet, fitness, and lifestyle that can affect skin health.
Women can visit the Simple Skincare Facebook page to learn more about Simple, meet the Simple Advisory Board experts, and learn new health and lifestyle tips for caring for skin. They can also view a quirky yet clever webisode about Williams and her skincare journey.
"We are thrilled to partner with Allison Williams on this ad campaign, which highlights the brand's skincare expertise as well as the new additions to our 2013 product line," said Rob Candelino, Vice President, Brand Building, Unilever Skincare. "The new products, like all Simple products, contain our purest possible ingredients for natural, healthy looking skin."
New Simple Products Now Available:
Simple Facial Foaming Cleanser removes impurities and remaining traces of make-up, leaving skin cleansed, refreshed and moisturized.
Simple Oil-Balancing Cleansing Facial Wipes help control shine and refresh skin.
Simple Eye Make-Up Remover Pads effectively remove make-up, even waterproof mascara without leaving a greasy residue.
Simple Protecting Light Moisturizer with SPF 15 helps protect skin from UVA and UVB rays.
Simple Radiance Cleansing Facial Wipes cleanse and remove impurities for healthy-looking, radiant skin.