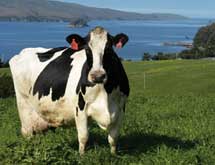 This family-run organic dairy and creamery works to constantly build on the healthy and sustainable traditions it helped to create. Walking into a store to find certified organic food might seem like second nature to consumers today, but that is due to businesses like California's Straus Family Creamery. Although it is a trailblazing company in the organic dairy sector of the food industry, according to Albert Straus, president, the decision was purely driven by a desire to do what is right.
"We have always tried to be proactive about keeping the local land open and used for agriculture," he said. "Everything we do is organic and we operate in as sustainable a fashion as we can."
Leading the charge
Straus Family Creamery's heritage lies in the small, family-owned dairy farm Bill Straus, Albert's father, began farming in 1941 with 23 cows 60 miles north of San Francisco. The family belief in respect for the land developed into a commitment to environmental sustainability over the decades, and the company it created considers responsible stewardship of the land a sacred obligation.
When Straus decided to convert the farm's dairy products to certified organic in 1993, something truly groundbreaking occurred. This was a pioneering step because, after the required one year period it takes for a dairy herd to become fully certified to produce organic milk, the Straus family farm became the first certified organic dairy west of the Mississippi River. Straus opened the creamery in 1994 to produce organic milk, yogurt, butter, and ice cream.
Today, the main dairy has about 290 cows on 660 acres. The company also gets some of its milk from neighboring certified-organic farms, run by the Hughes and Tresch families. Its focus is on the Bay Area, but Straus Family Creamery products are found in other parts of the Western US, with its milk available on the West Coast from Washington down to Arizona and New Mexico.
The company is the only California milk producer operating both an organic dairy and creamery. It strives to live up to its mission to produce healthy and organic milk and dairy products, to develop sustainable, environmentally-sound farming and food processing practices, and help keep the area a rural community.
The products have been highly received by consumers familiar with the Straus brand. Its products have won gold medals at the Los Angeles County Fair, The American Cheese Society, and the California State Fair, and the dairy, creamery, and various products have been featured on Martha Stewart's television show.
All products are made from milk pasteurized at 170 degrees for 19 seconds, a slow process designed to preserve the milk's natural flavors and nutrients. The company's cows are fed with feed that is 100% organic and never are treated with hormones or antibiotics. The farms don't use herbicides, pesticides, or chemical fertilizers, and each product is certified kosher and gluten free.
The commitment to its sustainable, health-centered business strategy is highly evident. The company captures the methane from its cows to produce 90% of the energy for its farm. Most of the company's milk is packaged in glass because of a belief in using reusable packaging, whenever possible. Rather than sending out separate trucks for deliveries and pickups, the same truck that drops off the milk also picks up empty bottles.
"With our glass bottles, we start with 40% to 50% recycled glass, and you can get six to eight uses out of one bottle. We have a higher than 80% return rate," said Straus. "We don't homogenize most of our milk in glass so the cream still floats to the top, and we don't use chlorine as a sanitizer."
Speaking out
Though the effort to make healthy food choices available has certainly been successful for Straus Family Creamery, there are battles still to be fought. When the FDA announced the approval of meat and dairy products from cloned animals last January, it said that products from cloned animals were as safe as those from naturally-bred animals. Straus Family Creamery was quick to disagree.
"Cloning is unnatural, untested, and it is not organic. It doesn't occur naturally in mammals, and it has never been tested over a long period of time," Straus said. "Cloning increases the risks to our food supply, it is not what organic, sustainable farming is about, and it is not consistent with our values."
But that isn't the only stance the company is taking against decisions by regulators. Late last year, the USDA proposed regulation reforms to close loopholes that allowed giant mega-dairies to confine cows with zero or limited access to pasture. On the surface, this seems like a good policy. But according to Straus, the USDA's solution didn't take into account the differences in places like California and Vermont, things like regional distinctions in climate, rainfall, and availability of water, factors that affect dairy farmers' ability to care for soil, water, and their animals.
"The rules would dictate the minimum number of days cows graze and how much of their total food supply comes from grass, which doesn't make sense in our area because of the climate," said Straus. "The regulations also would hurt the water quality due to potential manure run-off and would virtually eliminate the usage of barns and corrals to house and feed cows."
Despite dealing with these two challenging issues, Straus is confident in the direction his company is taking. Organic food choices have become a viable part of the food industry, something Straus Family Creamery can take some credit for. With a history of dedication to the land and to providing the people with wholesome purchase options for milk, yogurt, butter, and ice cream, the future for the company seems as healthy as the products it makes.
"We now have a very good management team that works well together and has the experience needed to get through these difficult economic times," Straus said. "We have sales goals and a plan for where we want to be and we're trying to look at all of our operations to see where we can continue to improve and be more sustainable and transparent."