Sweets & Snacks Expo 2016 Preview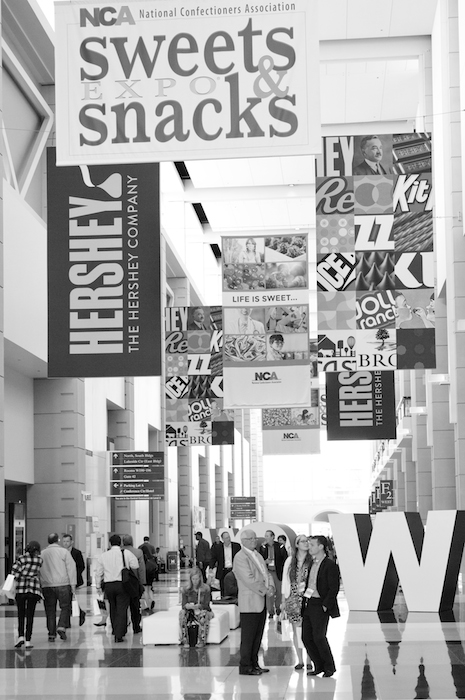 Discover the latest trends and innovations in the snack and confectionery industry at the Sweets & Snacks Expo.
By Stephanie Crets
The Sweets & Snacks Expo, put on by the National Confectioners Association, takes place May 24 through 26 at McCormick Place in Chicago. The expo gives more than 16,000 attendees from 90 countries a look at the latest trends in snacking – from products to consumer behavior to merchandising. This year, the show will offer a new exhibitor hall thanks to its 20 percent exhibitor growth and will feature more than 700 exhibiting companies across four acres of candy and snacks.
With three jam-packed days of events and things to see, attendees will experience widespread snack innovations, new and niche snack products, business-building solutions and innovations in merchandising. They will be able to gain actionable insights on snack innovations, trends and behaviors, uncover trends from the latest in multicultural snacking and learn how to drive sales by using technology to understand purchase behavior and merchandizing insights.
One of the most exciting things about this year's show is the influx of new exhibitors that will be on hand because we're expanded into a second hall, so we're able to offer more innovation than ever before," says Jenn Ellek Senior Director of Trade Marketing and Communications for the National Confectioners Association. "The reason we made this decision for the second hall is to provide the best business value in the industry. By coming to our show, you get a whole year's worth of work done in three days."
New for 2016, the Discovery Theater will host sessions focused on innovation and snacking, while the Sweet Insights Theater will focus on the latest in confectionery and specialty. The Sweets & Snacks Expo recommends the following snack sessions:
The State of the Snack Industry 2016, with an overview presented by IRI
Everything is a Snack: Modern Day Snacking in America
Demonstration and Tasting, presented by Canadean
Multi-Cultural Snacking: Are You Ready for the Impact of Changing Demographics? Insights presented by Geometry Global
In addition to educational sessions, experts from the Consumer Electronics Show (CES), Canadean and the Center for Advancing Retail & Technology will each discuss the latest retail advancements. CTA's Director of Business Intelligence Jack Cutts will speak about the latest advances in electronics, sensors and other technologies aiming to reshape the retail strategy for all types of goods, including candy and snacks, along with the latest findings from CES. He will provide a look into the future, including insights into how retailers use data to help micro-target shoppers, a peek at next-gen video technology that will revolutionize displays as well as augmented reality's role in retail.
Canadean's Innovation Insights Director Tom Vierhile will explore product innovation trends taking the confectionery and snack markets to new levels, along with highlighting new consumer flavor preferences that are driving innovation in snacking and how manufacturers are balancing the sensory and emotional demands of global consumers. CART will discuss technology available today that can drive retail sales, and attendees can learn why retailers need to consider how personalized marketing is important and why shopping analytics are beneficial.
"We know product and technology innovations are top of mind to our attendees," commented Barry Rosenbaum, expo chairman and president of Nassau Candy Distributors Inc. "By attending our 20-minute learning labs during the expo, retailers can take away actionable insights on how to keep relevant with their shoppers given the latest advancements in the marketplace."