The process is much like moving through a drive-thru at a fast food chain. Pull up to the door. Place your order with the sales associate. Pay. Receive your groceries. "It's a unique business model," President and CEO Scott Simon says. "We think of ourselves as the express lane at the grocery store. We have all the things you need at a one-stop shop."
Broomall, Penn.-based Swiss Farms operates 12 drive-thru stores throughout Pennsylvania. The company, which celebrates its 50th anniversary this year, keeps it simple by focusing on fresh products and fast and friendly service. Although Swiss Farms likes to stay true to its roots, the company has made a number of large investments in the past two years. That includes its new fresh food program.
"Our fresh food menu is taking off," Simon says. "It's something we've made a heavy investment on and we've been profitable in the first year. Sometimes, it takes companies years to be successful as they add on to their existing business model."
Focus On Fresh
Swiss Farms' fresh foods program offers a variety of healthy food options as well as comfort foods. The menu is peppered with breakfast sandwiches, paninis and melts, strombolis, salads, fresh fruit snacks, more than a dozen entrees and numerous sides. Comfort-style foods like lasagna, baked ziti, tea cooler barbecue pulled pork and tea cooler barbecue bacon wrapped meat loaf can be paired with side dishes like macaroni and cheese, fried rice, garlic green beans or rosemary-roasted red potatoes.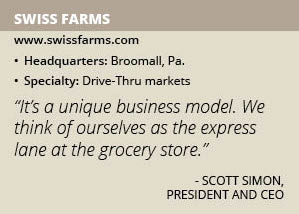 For its calorie conscious customers, Swiss Farm offers items like a cranberry chicken salad, cobb salad, chicken caesar salad, blueberry yogurt parfait or a fresh fruit cup. "We have a full line of private label fresh food," Simon says. "It's all made in-house. We own the whole supply chain from making it to distributing it." Entrees are made to feed two people and most cost $7.99.
Aside from freshly prepared foods, Swiss Farms' product line also includes farm fresh milk, all-natural juices and drinks, eggs, bread, butter, chips, snacks, fresh coffee and a variety of non-food items like toiletries, diapers and paper plates.
Investing in Technology
Swiss Farms has made significant investments into technology in the past few years. The company introduced a new human resources platform for smartphones. Employees use it to clock-in and clock out, check their schedules, look up their tax information and to send and receive messages to and from the company. Outsiders can use it to apply for a job with the company. "It's innovative and completely paperless," Simon says.
In addition to the human resources platform, Swiss Farms has been focusing on its online presence. It has invested a large amount of money into improving its website. Customers can now order online, pay ahead and skip the lines when they pull their car into the drive-thru to pick up their order. "It also allows you to view all of our products online," Simon says. "Prior to last year, people couldn't see the products we sold." Swiss Farms is also testing out delivery options as part of UberEats in select zip codes.
New Branding
Swiss Farms has been providing farm-fresh products to its customers in a fast and extra-convenient way since 1968. The first four Swiss Farms locations opened up in Delaware County. They were founded Lebanon, Pa.-based Wengert's Dairy as a channel for distribution of its No. 1-rated milk products. "All we were was a distributor for milk," Simon says. "As time went by, we added more things and different products."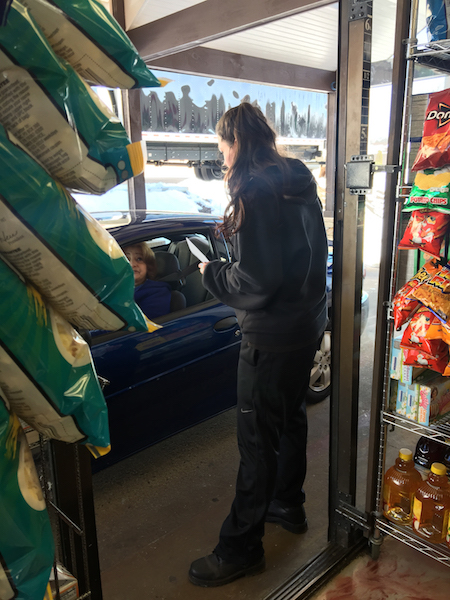 Today, Swiss Farms operates independently of the dairy. The company's 12 drive-thrus have undergone renovation in the past two years. Its Havertown store underwent significant renovation, after its trademark Swiss Farms Silo collapsed during a severe windstorm in 2016. The refurbishment featured a brand-new design for the iconic Swiss Farms Silo and a new and polished look. In addition, Swiss Farms has invested in branding.
"Over the years, we had a hybrid of different fonts and colors," Simon says. "Now we have a brand that is very consistent in all our marketing." The company also added a new mascot named Cruiser, a giant rooster that hosts a blog on the company's website and is often spotted at various community events.
A People Business
Swiss Farms' formula for success focuses on its people. Simon says that the company is selective about who it hires and that it's revamped hiring process is lengthy. "We take a lot of pride in how we hire," Simon says. Potential associates spend about an hour interviewing with a manager and take a math and cognitive skills test. If they pass, they meet with Simon who interviews them for another hour. Once hired, associates undergo 24 hours of training and spend time shadowing an experienced employee. It generally takes four weeks before an employee is left to his or her own.
"We think there is a formula for success in retail," Simon adds. "They are the commandments for retail. These are basic skill sets that people seem to forget about." Swiss Farms' training focuses on instilling discipline, being time orientated, dressing for success, understanding time management and measuring success.
The company employs almost 200 people. It is especially proud of the fact that some have been there for almost 20 years. "Our culture is about promoting from within," Simon says. "And we also have second or third generation employees that come to work for us. This is huge. Their parents know that these young, first-time employees are treated safe and consistently and they know what to expect because they used to work here."
Award-Winning
Swiss Farms is an award-winning brand. In 2017, the company received the Foodservice Innovators Award from Convenience Store News. It was recognized for combining convenience and speed with grocery items and its new fresh food program. This year, Swiss Farms received the "Best New Offering Of The Year" award from Convenience Store News.
In addition, the Delaware County Chamber of Commerce presented Swiss Farms with a "Small Business of The Year" award. The company is known for placing a heavy emphasis on charity and often participates in fundraising for local causes. "Everybody is involved in helping the communities we serve," Simon says. "This is the essence of good marketing and retail."
Swiss Farms supports local non-profit groups, schools and parks. Last year, the company donated more than $47,000 in food and product to various local food pantries and shelters. As the company continues to prosper, Swiss Farms considered the possibility of expanding its business model into other states. "Absolutely," Simon says. "We are set up for success."