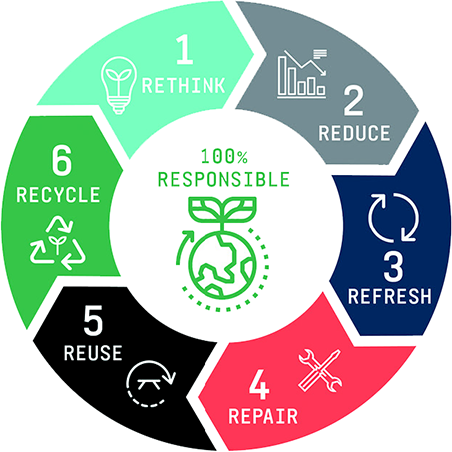 . The 'six Rs' aim to support brands in reducing over-consumption of resources and waste in a bid to tackle their negative impact on the environment and respond to the climate emergency.
Each 'R' (Rethink, Reduce, Refresh, Repair, Reuse, Recycle) represents a service or support function to help brands take a more sustainable approach to their retail displays at every stage of the lifecycle.
Committed to implementing widespread sustainable change across the retail industry, 100% Group is also working with industry association, POPAI, to develop a Sustainability Standard and guidance for best practice.
Will Williams, Strategy and Sustainability Director at 100% Group and member of POPAI's Sustainability Council, commented: "As a business, we're passionate about reducing the impact of retail marketing campaigns on the environment and the planet as whole. Each of our six Rs represent a vital point where brands can take small action to make a big difference, reducing their waste and carbon footprint through more sustainable treatment of their retail displays."