Teamwork Athletic Apparel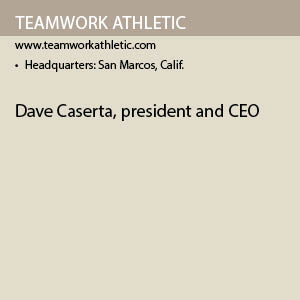 The company's technology, initially developed to accommodate mass customization of uniforms, enables it to quickly produce even the most complicated orders within short lead times. "Most of our customers want products that are unique to them," Caserta says. "Most of our business is same-day, but we can turn around even the most complicated personalized mass orders within a lead time of three to 10 days, with no minimum order sizes or set-up costs; typically, the lead time for such a highly customized product would be six to eight weeks."
The speed and "no-minimums" of the company's manufacturing process allows retailers to greatly reduce their inventory exposure as well as offer a wider variety of products. "If [retailers] sell out of a product in mid-season, they can order a few more, as opposed to 300, and we can send in a few days," he adds. "This allows retailers to be very agile and give the consumer what they want, when they want it. Our retailers currently offer $3 billion worth of ProSphere products online, but no one carries any of that in inventory."
On Demand
The company performs its own manufacturing, including cutting and sewing, in two locations: a three-building campus in San Marcos, Calif., and a manufacturing plant in Mexico. It also maintains a warehouse of fabric and ink.
Caserta describes Teamwork Athletic's manufacturing as being a single-piece-flow process inspired by lean manufacturing methodologies. "Our manufacturing process allows us to manufacture any product at anytime," he says.
The company's processes yield high-quality products that stand apart from competitors. "Our designs really set us apart," says Walt Fudge, Teamwork Athletic's vice president of licensing and business development. "The sublimation process and emphasis we place here on creative design gives us products that just look different. Our clients constantly tell us that our products are aesthetically beautiful."
Teamwork Athletic enhanced its production processes five years ago in light of the shift of retail online. "We saw what the Internet revolution was doing to our retailers from the big [companies] down to the mom-and-pop shops," Caserta says.
Teamwork Athletic researched the reasons behind the online shift. "Our customers were being challenged because consumers want a lot of choices at low prices and they want it now," he adds.
In addition to evolving its manufacturing process to more quickly produce high-quality goods, the company developed its "Tsunami Technology," a tool that enables it to greatly accelerate product development. "[Tsunami] is capable of developing 150,000 new products per day at a rate of pennies per SKU, where typically it can take months and cost thousands of dollars per product," Caserta says. One of Teamwork Athletic's retailers, Sportswear Unlimited, has introduced more than 12 million new Prosphere products online in the past year on its website as well as on Amazon and Walmart.com as a result of this capability. Teamwork Athletic's software is integrated into the websites of Sportswear Unlimited and many of its other retail partners. This allows consumers to personalize products and place orders that are received directly by Teamwork Athletic, which then manufactures and drop-ships the order directly to the consumer.
"We provide full turnkey services that allow retailers to focus on sales and marketing, which is what they do best, instead of supply chain, product development, manufacturing and order fulfillment," Caserta says. The company, through its Rapidthreads.com brand, also offers contract manufacturing services to other brands, businesses and labels using its patented technology.
Collegiate Licensing
The company's new technology and production capabilities led it to seek out licensee opportunities four years ago, Product Development Manager Chris Kollmeyer says.
Teamwork Athletic now has licensing partnerships with more than 600 colleges ranging from well-known Division I schools to smaller institutions. "We've created a disruption in not only how collegiate wear is sold and manufactured, but the product itself," he adds. "We looked at the marketplace and saw a lot of gray t-shirts with only the school's name on them. We're able to use sublimation to create shirts with all-over prints and in different colors, and have made that a part of our value proposition."
In addition to offering shirts and hooded sweatshirts, the company can produce apparel such as aprons, dresses, shoes and socks. "We can take the t-shirt and hoodie market and turn it upside down," Kollmeyer says. "We don't have any inventory, so we can take risks and do different things that you can't find anywhere else."
As an example, the company in September 2016 introduced "ugly holiday sweater"-inspired designs for its college licensors. "If there's something popular in today's pop-culture, we can have a product that captures it available to the marketplace within a day," Caserta says.
Teamwork Athletic developed 50,000 ugly sweater-related designs that were available in online marketplaces serving customers globally. "Because of the great team and fantastic technology we have here, when someone comes up with an idea, we can get it on the market within hours," he adds. "[The sweaters] were a space we didn't even know we would be in previously, and it became our best-selling product that holiday season."
Play Ball
The company's ability to quickly produce a wide range of products recently earned it a high-profile licensing agreement. In September, Teamwork Athletic gained the rights to manufacture apparel for each active roster player in the Major League Baseball Players Association (MLBPA).
Apparel is already available for 30 players; the MLBPA is currently reviewing product designs for the rest of the league. The full range of MLBPA-licensed merchandise is expected to be available before the holiday season.
In addition to having the ability to produce products for 700 professional baseball players, the company will also be able to print apparel for more than 2,000 minor league players. "Most stores will just stock shirts for the Top 20 most popular players in the league; we can have 100 different products for every single player in the league, because there is no inventory risk," Caserta says.
Future Opportunities
Teamwork Athletic is celebrating its 30th anniversary this year. Founders Chuck and Nancy Lehrer started the business in 1987 when they decided to try their hand at manufacturing following the departure of a supplier to their previous business, a manufacturer's representative sales firm focused on sporting goods.
Caserta credits the company's continued success in part to its focus on its customers and its understanding of the retail industry. "We definitely believe in getting out of our building and learning what consumers want, as well as helping retailers understand consumers better," he says.
The company's management team takes a highly agile approach to decision-making. "We have a similar mentality to a startup company," Caserta says. "Every day we're looking at new opportunities, measuring our progress and pivoting by choice."
Teamwork Athletic is pursuing additional licensing partnerships with more than 100 licensors ranging from the sports to the entertainment worlds. "There's not much in our way because we already have the technology; it's just a matter of which direction we choose to take it," he adds. "In the next few years, we plan to develop more than 500 million licensed products."