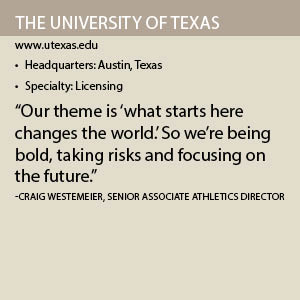 Reimagining Licensing
In 2016, UT teamed up with 289c Apparel, a collegiate trademark management company and affiliate of Dallas Cowboys Merchandising. This represented a significant strategy shift for UT's licensing program and a move away from the old collegiate model to one that is more nimble and focused around brand communication.
"As a university, we aim to be innovative," Westemeier says. "Our theme is 'what starts here changes the world.' So we're being bold, taking risks and focusing on the future."
UT sought a partner that could not only help support its mission and brand, but also one that understood the ever-changing retail market, he adds. "We have a great partner in Nike, our football and equipment partner, but wanted to offset that with other branding," Westemeier explains. "However, 289c Apparel is helping us get away from looking like another college entity."
Westemeier notes that he thinks the majority of retailers put all colleges into one bag. Associate Athletics Director for Strategic Relations Jeff Orth agrees, noting that UT has many "built-in advantages" that differentiate it from other universities. These include its association with the state of Texas, longhorn silhouette logo, and the university's history of academics and sports accomplishment.
"We want to have more control over how our brand is presented so that we can increase brand affinity," Orth says. "One way we're tackling this is with our new brand 'We Are Texas.' Not all college brands can have their own label.
"We felt this was a forward-thinking game-changer to work with 289c Apparel to create our brand, and have more input into how we represent our brand to our consumers," he continues.
Orth notes that UT's old model gave manufacturers the right to use UT's trademarks on their products as they saw fit. However, in UT's current model, the university can now provide input when creating a product. "This gives us the ability to dial up and dial down different brand attributes as we see fit based on market conditions," Orth explains.
"We've added our branding in the neck label and hangtags, and are working with retailers to improve communications at the point-of-sale," Westemeier adds.
Valuing Partnerships
When it comes to choosing its partnerships, UT not only takes a company's brand positioning into consideration, but also consumers' perceptions of the brand. According to Orth, it's very important UT keeps the right company. He adds that standard was set when UT partnered with Nike in 2000.
"They are a really important relationship to us as we realized the power of the company you keep while working with them," he says. "We started looking at all of our relationships, and becoming selective moving forward with new ones because we want to ensure they represent the same brand values."
As UT moves forward with its current and new partnerships, it aims to remain consistent in its brand messaging and grow its product footprint at retail, including its hardline products. "This is key when tackling our challenge of a very broad consumer base in terms of the target demographics we have," Westemeier says. "We're not just looking at the high-end consumer; we're looking at the consumer across the board.
"That's the next step for us to monitor and focus on," he concludes. "We have to figure out how to position ourselves, and grow strategically, to maintain our broad consumer reach without losing the premium aspect of what our brand represents."