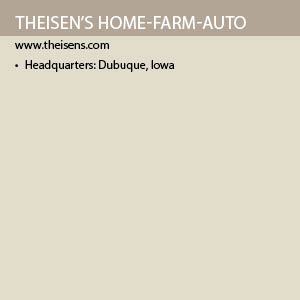 Theisen's customer service and continuous effort to get to know its customer segments and their needs have led to steady growth and expansion throughout its history. It has 23 locations throughout Iowa and Wisconsin, along with a distribution facility, while spanning four generations of Theisen ownership and active employment.
A Strong History
When the original Theisen's opened, it started as a small store whose owners' goal was to make an honest living as hardworking merchants. In 1952, in an effort to strengthen the store's buying power, Theisen's became a member of a national buying group, Mid-States Distributing, which was comprised of family-owned independent retailers. Since joining the group, both entities have grown considerably, and the Mid-States organization now has more than 500 stores.
Theisen family involvement grew in 1956, when Jim Theisen joined his parents in the company. The family opened the first Theisen's branch store in 1957 in Maquoketa, Iowa, and that was really the start of steady growth and expansion throughout the state.
As more stores were added throughout the 1960s and 1970s, Theisen distributing was established in 1973, which served as the corporate headquarters and distribution facility. Its primary function is to service the retail outlets, providing products and support to Theisen's customers.
In 1979 the Dubuque store was expanded to 10 times its size and relocated to its present location of 2900 Dodge Street. The 1980s saw even more growth, and in 1987 the corporate headquarters and the distribution facility in Dubuque were relocated to a new 50,000-square-foot facility.
Throughout their school years, Jim and wife Marita's children often worked in the stores as they were needed, and in 1987, Jim's sons Chris and Tony joined the operation full-time to make Theisen's three generations strong.
In 1994 Chris and Tony joined their father in ownership. Soon, as the stores continued to grow, it became necessary to expand the distribution center and in 1997 the center was expanded by 20,000 square feet.
Stores continued to be added throughout the 2000s and in 2007 it became necessary to expand the corporate office and distribution center. Theisen Supply Inc. relocated to a new 140,000-square-foot facility, doubling the size of the corporate office and adding significantly to its shipping and receiving docks to better serve its customers.
More stores were eventually added, and in 2014, Matt Theisen, Tony's son, joined the company, leading its Commercial Sales division and expanding the family tradition to four generations.
Modern Touch
At Theisen's, Dixon oversees the strategic direction for the company. He aims to stay connected with customers in the digital age. "We are starting to realize how we can reach the right people with the proper resources," Dixon says. "And that means any time, day or night, with multiple channels of communication."
That of course requires strong initiatives on both the print and e-commerce side, striving towards an "omnichannel" business model that improves the customer experience both online and in stores. That all begins with the right website experience. "We are re-platforming our website, adding assortment and content," Dixon notes, "and expect to relaunch sometime in the fall of 2017."
The idea is to enhance the current website, giving its users better search capabilities as well as creating better shopping experiences for customers. A new director of e-commerce has been hired to improve content, education and ease of use. The website will also have a new look and design for customers.
Response time on the fulfillment side will also be enhanced as Theisen's has begun to utilize a technology known as voice picking. With this hands-free technology, the individual working in the warehouse has the freedom to unpack merchandise or email distributors, creating a more efficient workplace. The goal is to attain 48-hour fulfillment on all orders.
Disciplined Merchandising
As anyone who works in retail knows, there is tremendous pressure in the industry to compete with the likes of Amazon as well as brick-and-mortar retailers. For Theisen's, the goal is to set itself apart with great brands available at great value prices.
Well-known brands such as Stihl, Red Wing and Milwaukee Tool can always be found at Theisen's. And though it can be difficult at times to select the right merchandise, it pays to know your customers well. "That's really an evolving challenge these days," Dixon says. "It is vitally important to stay on trend, but it is also important not to jump on every trend."
To stay on trend, Theisen's recently hired Jeffrey Lee as director of merchandising and inventory management. In this role, Lee is overseeing all elements of purchasing, inventory management and visual merchandising in the stores.
That also entails a focus on inventory management. And here, Theisen's must walk a fine line, as do many retailers. "We have to make sure we have the right amount at the right time," Lee notes. "There needs to be a consistent flow in moving merchandise."
Dixon prefers an environment where employees are given a high level of responsibility to execute the necessary tasks. "I like to empower employees and create an environment of accountability," Dixon says. "But at the same time, we need to realize we are all on the same team."
Family Matters
Family members continue to be very active in the organization with roles on the company's board. Jim Theisen acts as the chairman emeritus, Tony Theisen is co-chairman and chief strategic officer, while Chris Theisen is also co-chairman and serves as the company's chief facility officer.
"All of the family members work extremely hard to make sure Theisen's maintains a family culture," Dixon explains. "Furthermore, they also work hard to ensure the next generation of family members understand the strategy of the company."
Theisen's recently formalized its succession planning to ensure it remains within the Theisen's family for generations to come. Matt Theisen leads commercial sales, Pete Theisen joined in 2017 and serves as a marketing and promotions specialist, and Kaylee Theisen joined in 2015 as a junior buyer.
The company's leadership recently launched a 12-week training program to ensure that employees have a career path when they come aboard Theisen's. "We really want to make sure we continue to capture bright young talent," Dixon says, "and give them an opportunity to grow and advance at Theisen's, so they can have a long-term career. The training program is a stepping stone to accomplishing that objective."
As part of the program, trainees are able to see what working methods are used at different stores, not just one, to get a feel for different approaches to problem-solving. "We want them ingrained in our processes, but we do want them to get a feel for a variety of stores," Dixon explains.
Store Expansion
In October 2016, Theisen's opened its 23rd store in Davenport, Iowa. The Davenport opening came shortly after Theisen's remodeled a store in Anamosa, Iowa. In spring 2017, Theisen's celebrated its 50th anniversary in Dyersville, Iowa, by announcing the construction of a new store that will be more than twice the size of the current facility.
Construction of the new 50,000-square-foot store began in June and is set for completion in the fall. The new building is being constructed behind the current 24,000-square-foot facility. With more than double the square footage, the new store will be able to stock a wider variety of items and give customers more choices.
Every department will be expanded, and the store will feature wider aisles and more checkout lanes. "We are always looking at ways to expand and improve the stores," Dixon says, "especially for a store like Dyersville, which has been woven into the community for 50 years."
Finding Touch Points
Constant updating of the physical stores is necessary to thrive in the competitive world of retail, and there is also a need to update Theisen's marketing approach to reflect a more digital culture. "The key is always to find more appropriate touch points," Senior Director of Marketing and Communication Sharon Donovan explains. "We are really trying to evolve completely. And that means even things like redesigning our flyers, with a more visually attractive, modern look."
One advantage of the digital age is that Theisen's can convey different messages depending on the medium it is using. "You do have to walk that fine line, however," Donovan notes. "You want to use technology to learn more about customer preferences, but you don't want to be invasive."
One of Theisen's latest programs is an e-blast club loyalty program called the MORE club, where customers can sign up for coupons via e-mail. Additionally, they are asked to fill out their preferences in terms of needs and interests. "The program has worked really well in two ways," Donovan says. "It has provided value for customers, but also allowed us to gather useful information about products they are looking for."
While reaping the benefits of its own eblast program, Theisen's has also partnered with Retale, an app for both Apple and Android phones that allows users to access weekly ads, coupons and local deals. Theisen's is able to publish its ads on the app, giving customers access to even more savings.
Staying connected to loyal customers remains a primary focus, but Theisen's has also begun branching out into the world of sponsorships to broaden its appeal. In November 2016, Theisen's announced it was sponsoring a relatively new sport, Snocross. As the name indicates, the sport combines elements of snowmobile racing with motor cross.
In March, Theisen's partnered with the International Series of Champions (ISOC) to be the title sponsor of Round Seven of the AMSOIL Championship Snocross, The Theisen's Snocross National at Sundown Mountain Resort in Dubuque, Iowa. Tony Theisen and his son Matt have both been big enthusiasts of the sport.
"We were very proud to be the title sponsor of Theisen's Snocross National," Tony Theisen says. "The event was a natural fit for us. Not only is the Theisen family huge snowmobile enthusiasts, but every item a snowmobiler could want can be found at Theisen's."
Community Loyalty
As the modernization of Theisen's stores and marketing approach continues, its leadership is mindful to not lose sight of being active in the communities it serves. Throughout its history, Theisen's has developed a long list of charitable and community causes that has deeply connected it to Iowa and Wisconsin.
One such program is the "More for Your Community" grants program. In 2016, Theisen's donated $300,000 in such grants. The program makes direct grants to agencies that jumpstart or sustain projects that serve the basic needs of families and children, including food and shelter. To apply for such funds, applicants must be 501(c)(3) nonprofits, government- or school- sponsored organizations that directly serve children or families.
"I think one of the things that makes us truly unique is our commitment to the communities we are in," Dixon says. "Generosity is a key part of our corporate culture, and it is important for us to give something back to the communities we serve."
Giving back to the communities it serves has been a major focus in Jim Theisen's career, and as a result he has been recognized with numerous awards, including the Dubuque Register First Citizen Award in 2003. He was also selected by the Dubuque Jaycees to receive the Gil Chavenelle Award in 1997, and again in 2003 he was selected to receive the Association of Fundraising Professionals Philanthropist Of The Year Award.
Strong Past, Strong Future
With strong roots in Iowa and Wisconsin, 90 years of history to build on and a loyal customer base, Dixon notes there are plans to eventually expand its footprint within the Midwest, though there are no specific details yet.
"The plan is definitely for more growth," Dixon says. "Expanding our physical footprint or expanding our e-commerce capabilities, growth is in the cards."