Trakdot Targets US and Canadian Markets for Launch of Trakdot Luggage Real-Time Baggage Tracking Device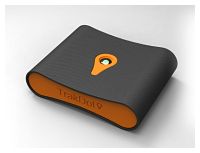 Feb. 7, 2013 – Trakdot, the brand behind a luggage tracking device recently unveiled at the Consumer Electronics Show in Las Vegas (CES), has set its sights on the US and Canada as key markets for its first phase of launch. Created by the LA-based firm, GlobaTrac, LLC, a pioneering innovator in low cost tracking solutions, Trakdot Luggage offers a solution to air travelers concerned about losing their bags. Trakdot Luggage was one of the most talked about products at CES receiving exposure on CNN, Fox News, Mashable, Engadget and the Huffington Post among others.
"A recent passenger survey from the International Air Transport Association showed that 81% of travelers are interested in tracking their bags in real time," explains CEO Harry Steck. "Trakdot Luggage empowers travelers to do just that, with a revolutionary product that is inexpensive as well as simple and convenient to use. The FAA forecasted the number of people travelling by air to increase by 4.6% in 2012, so whether traveling for business or pleasure, we think there is a huge North American market for Trakdot."
Though the airlines have an impressive 98% successful baggage arrival rate, there are still 26 million bags that go missing each year from airports around the world, according to the SITA. In an effort to join the airlines in reassuring passengers concerned about their valuables, Trakdot Luggage offers additional peace of mind with city-specific information on the whereabouts of checked baggage. The ultra-light, palm sized tracker fits comfortably in any bag and delivers the city location in real time to any mobile, Apple, Android, or SMS capable devices.
The retail package includes the Trakdot Luggage device, luggage tag, and batteries. It works globally with any mobile phone or SMS enabled device for a low annual price. Each device can be linked to multiple phones, and each phone can track multiple devices. For added convenience, Trakdot Luggage owners can track or locate bags on the web at www.Trakdot.com using a secure log-in.