By Janice Hoppe-Spiers
Gone are the simple days when toymakers needed only to run a product advertisement during regularly scheduled television programs and knew it would reach millions of children. In today's world of mass customization with an ever-increasing number of devices and social platforms, viewing patterns have changed and content delivery must be strategic to reach the new generation of children.
"With all these platforms and how robust and accessible YouTube is, the notion to build your own audience has been democratized," WowWee President and co-founder Richard Yanofsky says. "In the last three to four years, the fallout of that is how you message a product. TV was much more important and that's getting diluted now and will continue to get challenged by how kids choose to pull their own content and what they choose. It's an entangled world where there are a lot of verticals that affect the success of your toy."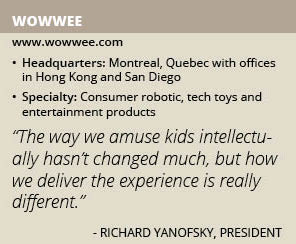 The way in which toymakers "speak to" and access children today is dramatically different than it was just four years ago, Yanofsky adds. "We are trying to get congruent with those protocols and take advantage of the chaos that the market is presenting," he says. "On the other side of that, there are tons of opportunities. There are YouTube channels garnering 10 to 12 million subscribers who are kids with 15 to 20 billion views; these are powerful brands. As a manufacturer today, the best insulation against market volatility is mind share and as a vendor, we are thinking about that all the time."
As the industry continues to evolve, WowWee attributes its success to its ability to quickly adapt to changing consumer demands. "The way we amuse kids intellectually hasn't changed much, but how we deliver the experience is really different," Yanofsky notes. "We like to think we are very current in terms of what is available in technology and how we can deliver traditional play patterns with more curb appeal."
The Evolution
WowWee made a name for itself in the toy industry in 2004 with the introduction of Robosapien, which revolutionized the way children interact with robotic companions. Over time, the Montreal-based company's focus on the development of breakthrough consumer technologies has led to many more imaginative, award-winning gadgets and toys, entertaining both children and adults around the world.
With its name firmly rooted in sophisticated robotic technology, WowWee decided to diversify its offerings by taking its "special sauce" and know-how to deliver products at lower price points. In 2017, Fingerlings, baby pets that cling to your fingers, was born from that product innovation. "We had some challenging years from 2012 to 2014, but we navigated successfully around it and took a hard look at where the toy industry is going," Yanofsky says. "We are more open today and see ourselves as a toy robotics and entertainment company."
The most important decision WowWee made was to get out of the narrow definition consumers and retailers had perceived it to be and redefined its position in the toy industry. "They knew us as the robot company, so we had to get out of own way and think of ourselves as a toy company with this great technology that can make great toys," Yanofsky explains. "With anything transformative, the first step is getting out of your own way and stigma."
Interactive Experiences
In September, WowWee launched UNTAMED ARena, the new augmented reality (AR) app for mobile devices that is fully integrated with the entire product experience and transforms any living room, park or playground into an UNTAMED creature's modern-day arena. "It's a fantastic feature and I love the way the game plays," Yanofsky says. "It's realistic and takes your toy to another dimension."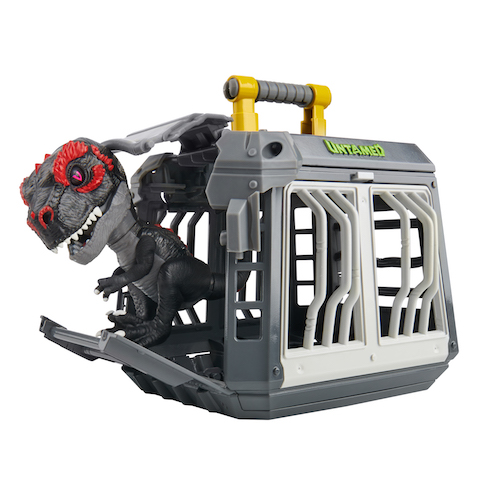 Built by HappyGiant, a leader in AR games and experiences, UNTAMED ARena provides a complete AR experience equipped with 3D toy recognition that allows players to experience their toy in a whole new way and fully immerse themselves in the game. "We have been playing in the AR space for quite a while and are very strong at tying standalone play with enhanced play," CTO Davin Sufer says. "We learned the toy has to play well on its own and enhanced with the app."
Consumers can purchase the UNTAMED characters for standalone play, but WowWee created the UNTAMED ARena as another touchpoint to tell a bigger story about the characters that it can't get across with a physical toy. "It offers rich environments, sound effects and offers a deeper dive into a world in which the toys can be played with," Sufer adds. "It's another way to connect our audience to not only provide unique, innovative game play, but also create this character through your own motion. Seeing the character, petting it and feed it is magic. We are seeing huge interest in the brand and we are just getting started."
WowWee also launched Fingerlings HUGS, a larger, plush version of the Fingerlings characters with motion sensors. "You can throw them up in the air, spin them, drop them or throw them to a friend and you get reactions and sound effects," Sufer explains. "They are super interactive and people that that product." WowWee is working to become known for deep, interactive experiences with technology hidden in its products. "We were all about the features and set the bar really high with our robots, but now we are taking tried and true play experiences and developing richer, deeper and more interactive experiences."
New Markets
WowWee recently established an exclusive licensing agreement with Pinkfong, a Korean education startup focused on preschool entertainment and unique content creation. With more than 170 apps available in 112 countries and counting, Pinkfong has amassed move than 200 million global downloads, of which nearly 50 million are from the United States.
"We are excited to embark on a strategic partnership with Pinkfong and look forward to our teams collaborating on this exciting brand," Yanofsky says. "Pinkfong produces content that deeply resonates with a global audience and expertly harnesses it across digital platforms to drive meaningful engagement. WowWee's signature innovation and interactive play naturally complements Pinkfong's approach to preschool entertainment at scale."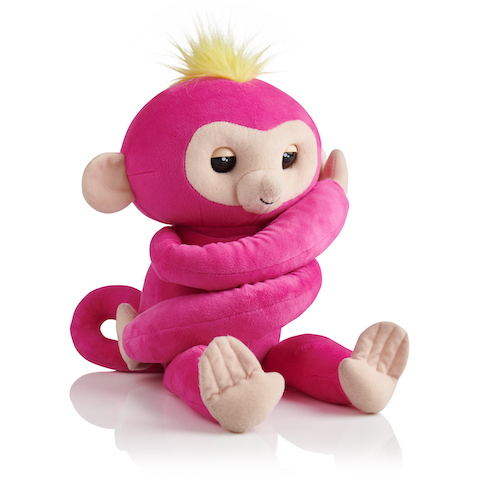 Pinkfong made international headlines with its viral phenomenon "Baby Shark Dance." The video went viral in Southeast Asia in July and has steadily increased in popularity, recently making its way to Europe and North America. To date, the video has more than 1.8 billion views and counting.
WowWee is excited for the opportunity to gain a stronger presence in the preschool segment to reach children at an even younger age and deliver the magic of interactive toys. "There hasn't been a lot of innovation in this segment and retailers are excited about it," Sufer notes. "We had a fun time with Pinkfong's team rethinking all those classic preschool items with WowWee's innovation."
WowWee's Pinkfong product line will launch at retailers in fall 2019.
Moving forward, WowWee plans to continue building on its established brands while developing innovative new products to bring to market. "We have some new interactive toys, tons of new characters and deep play patterns all at affordable prices," Yanofsky says. "Coming up, we have some new entrants in what we think will really resonate in all different demographics."