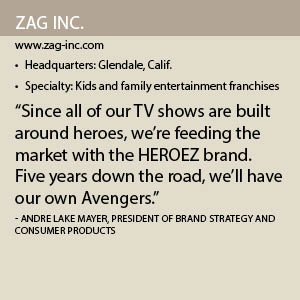 This year, ZAG is involved in a number of highly anticipated projects that include a trifecta launch of its ZAG HEROEZ Zak Storm™ – Super Pirate action adventure comedy TV series and ZAG HEROEZ Miraculous™, Tales of Ladybug & Cat Noir animated superhero action comedy series. ZAG HEROEZ is the company's animated superhero franchise. "Since all of our TV shows are built around unique next generation heroes, we're feeding the market with the HEROEZ brand," Mayer says. "Five years down the road, we'll have our own Avengers."
Trifecta Launch
Meet Zak Storm, one of the company's newest superheroes. ZAG HEROEZ Zak Storm – Super Pirate is an adventure about a surfer kid, Zak, who vanishes in the Bermuda Triangle and reluctantly becomes the leader of a motley crew on a ship named The Chaos. Zak masters the transforming powers of his ancient talking sword, Calabrass, and leads his crew through a variety of adventures within the seven seas of the Bermuda Triangle.
The series, based on an original idea from Man of Action Entertainment, debuted in multiple territories around the world and has already been scoring top ratings. In the United States, Zak Storm debuted this fall on Discovery Family and Sinclair Broadcast Group's KidsClick TV. On Nov. 1, ZAG and global master toy partner Bandai America launched a digital trifecta for Zak Storm. "There's something very special about the way we're rolling this out," Mayer says. "There are three platforms that will all launch on the same day."
The tech-infused trifecta launch interconnects the TV show, a variety of toys and a new mobile game. On Nov. 1, Zak Storm debuted on Netflix. At the same time, the company is launching a robust range of toys and a free mobile game app that all work together in a connected play experience.
"Every single toy features a collectable coin," Mayer says. "Kids can scan the coin into their free game app and receive rewards. They can level up the gaming experience, get more power and strength or enter different worlds."
The toys became available exclusively online through Amazon in November. After that, they will expand to Toys "R" Us in December and Target in January. Another unique aspect to the brick-and-mortar toy launch is that players will be able to download rewards on store shelves even if they don't purchase the toy.
"They can scan the signage on the shelf," Mayer says. "It could be anything from special footage from the show or the opportunity to power up. Of course, buying the toy will give them more rewards."
In addition, for players who have the game App installed on their mobile devices, watching the show on Netflix or linear TV will automatically sync the game with the show and deliver small-screen battles and adventures that mimic the real-time TV show scenes. The app also provides the player with digital game rewards.
As with ZAG's other brands, Zak Storm has its fan base and is supported by a long-term entertainment and merchandising program involving multi-seasons on TV and a variety of consumer products.
Miraculous Ladybug Launches
In the United States, ZAG has a broadcasting deal with Netflix and the series originally launched on Nickelodeon in December 2015 where it became the No. 1 show for girls ages six to 11 years old on weekends. The show centers on the adventures of two teenagers with secret superhero identities, Marinette and Adrien, who transform into Ladybug and Cat Noir when evil threatens Paris.
Netflix launches Season two in December. The platform introduced season one earlier this year in February, where the series tied at No. 3 for a kids' series. The series continues to air on a variety of international networks including Disney Channel Europe, Disney Channel Latin America, TFI in France and ABC Australia. In September, the series ranked in the Top 10 Kids Show Overall Across Europe, ahead of Star Wars Rebels (TBI Vision, Parrot Analytics).
Miraculous, Tales of Ladybug & Cat Noir is also a digital hit with more than 7 billion views on official and fan generated YouTube channels. The series has received 40 million episode views across all Nickelodeon platforms. Its music video, featuring American actress and singer Laura Marano performing the theme song, became the overall most viewed video on Nickelodeon's YouTube Channel. Since July 2016, the video received roughly 70 million views. Also, the series ranked No. 2 in TV on Tumblr during 2016.
Engaging Fans
Due to demand from Miraculous, Tales of Ladybug & Cat Noir's fans who wanted more ways to engage with the brand, ZAG developed an extensive licensing and merchandising program with more than 300 licensees around the globe. That translates into more than 3,000 product SKUs across all categories.
"We tap into everything from fashion to home décor, publishing and school products," Mayer says. "We have a pretty broad spectrum of products."
Miraculous, Tales of Ladybug & Cat Noir merchandise is available through retailers such as Hot Topic, Amazon, Toys"R"Us and various specialty stores in the United States. Some of the brand's U.S.-based licensing partners include Action Lab Comics, Accessory Innovations, Bandai America LLC, BioWorld, Cardinal Games & Puzzles, Changes, Evy of California, Franco Manufacturing, Funko, Great Eastern, H.E.R., Komar Kids, Mighty Fine, Rubie's Costume Company, Sakar International, Shout! Factory, Starlight Accessories and Townley.
ZAG received Animation Magazine's Breakout Studio of the Year Award in 2016 for Miraculous, Tales of Ladybug & Cat Noir series. "It's for the quality of the animation that we were developing for Miraculous," Mayer says. "It's superior to everybody in 3-D-CGI animation. It's almost like you're watching a live action show. We're basically bringing motion picture quality animation to TV."
Bolstering Leadership
To keep up with the company's rapid expansion, ZAG bolstered its executive team this year. It appointed former Legendary Entertainment CFO Marlin Prager as its new COO and CFO. He is joined by David Ribardo, chief accounting officer and Cindy Elfenbein as vice president of retail business development.
"We have experienced rapid growth since we launched our first series, Miraculous, Tales of Ladybug & Cat Noir," ZAG Founder and CEO Jeremy Zag stated. "With over 200 hours of original content and eight television series in production, including the recent U.S. debut of our new boys' action/adventure property, Zak Storm — Super Pirate, it has become exceedingly important to add accomplished executives to our existing, talented team who together will pave the way as we further expand."